Thank you to Kmart for sponsoring this ad.
What if you have the chance to win a $100 Kmart Gift Card for less than 5 minutes of your time? I'm serious. It will take you less than 5 minutes to enter to win a $100 gift card. You'd be making a mistake if you didn't try. All you have to do is enter the Kmart LocalAd Sweeps on ShopYourWay SWEEPS Points. Prizes. Play! for your chance at a prize.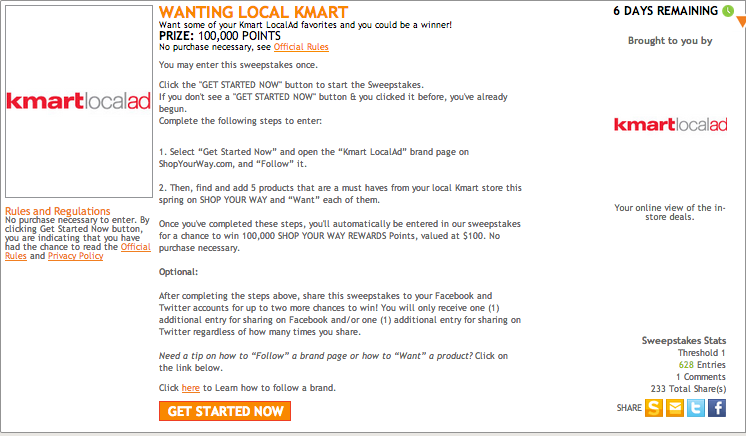 All you have to do is 'follow' the Kmart LocalAd brand page on ShopYourWay, then pick 5 must-haves from your local Kmart store and add them to your 'Wish List' on ShopYourWay.


For example: search patio furniture on ShopYourWay, hover over a set you like with your mouse and click 'want.' The product will automatically be added to your Wish List.
I found so many great items in the patio section that I didn't even bother looking at any other sections. I would really like to win enough points to purchase the $4,700 patio set. Oohh, la la! It is gorgeous!
By the way, don't worry about writing down the steps to enter, the SWEEPS app will walk you through it. Once you've completed these steps, you'll be entered to win 100,000 points, which equals to $100! Want more entries? Score two additional ones easily by sharing the Sweeps with your Facebook & Twitter friends.
What will you buy with your winnings @Kmart ShopYourWay?
disclaimer: This is a sponsored post. I am a Kmart blogger, though all opinions   are my own.