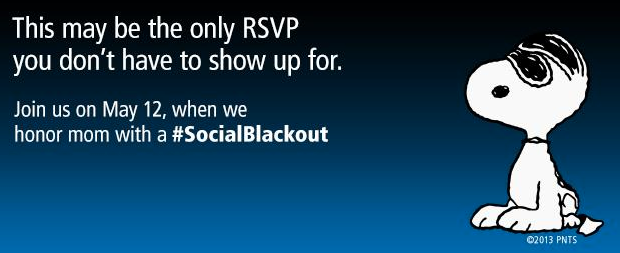 I participated in a campaign on behalf of Mom Central Consulting for Metlife. I received a promotional item as a thank you for participating.
It doesn't seem to matter where I go I see parents and children plugged in to electronics and completely disconnected with one another. I'll admit, I've been guilty of this a time or two myself. Numerous times we've been at a restaurant and I'll be checking my email and Em will be reading a book on her phone and we are completely ignoring each other (hangs head in shame). This Mother's Day though I'm making the commitment to stay off-line as well as asking my family to participate in the MetLife #SocialBlackout movement. It's just one day and it will be nice to not be distracted by the online world. We'll be able to just chat and focus on each other's lives.
As a rule, we keep Mother's Day activities pretty low-key. This year we'll probably go to lunch as a family and then Alan, Em & I will start the trip home from Dylan's. On the way we'll stop by my Mom's to see her for a few and then make the rest of the drive home. I know, I know our lives are incredibly exciting.
I think most moms would prefer unplugged time with their children over a gift. Personally, I think the #SocialBlackout movement is pure genius. However, we shouldn't have to wait for a special holiday like Mother's Day to disconnect from the internet and reconnect with our family. I might have to start implementing this on a monthly basis.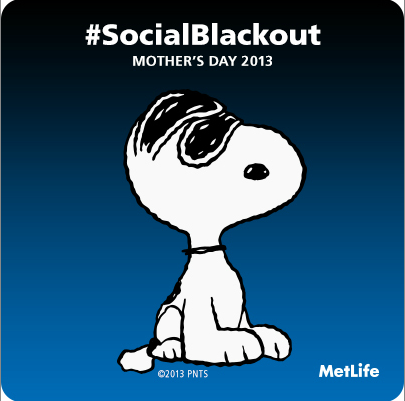 Here's how to participate:
1. Go here and like the #SocialBlackout movement on Facebook.
2. Invite your friends to join the movement
3. On Sunday set your profile pic to the official #SocialBlackout image found here, update your status with a Mother's Day wish a day and say adios to your social sites for the rest of the day.