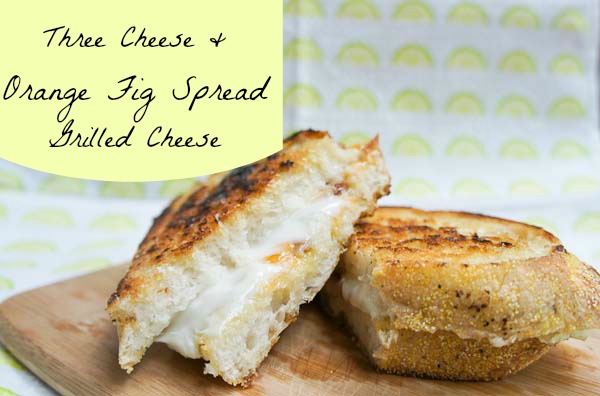 One of my guilty pleasures is shopping at Whole Foods. I know, I know…it's crazy expensive, but they just have so many great food items I can't help myself. The good thing is that store I shop at is near my son, which is about 3 hours from me. Needless to say shopping at Whole Foods doesn't  happen very often.
The cheese selection at Whole Foods is so incredibly fantastic. I love browsing the selection and thinking of new ways to use the cheeses. On my last visit I bought three different varieties: Raspberry Tart Bellavitano, New Zealand Cheddar, Goat Milk Brie.  and decided to use two of them in this recipe. The third I'm saving for a cheese plate.
I also bought a hearty loaf of tuscan bread and some orange fig spread during my Whole Foods spree.  There was only one thing to do….make a delicious grilled cheese sandwich!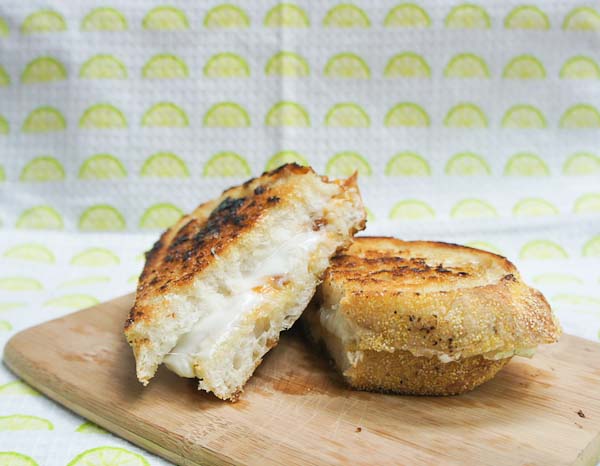 INGREDIENTS
2 slices of hearty tuscan bread
New zealand cheddar
Goat Milk Brie
Shredded Cheddar
Dollop or two of Orange Fig Spread
Butter
DIRECTIONS
1. Butter the bread slices on one side and place, butter side down, in medium-hot skillet.
2. Cover one slice of bread with the goat milk brie and the other slice of bread with the new zealand cheddar. Sprinkle the shredded cheddar on one slice. Spread the other slice with the orange fig spread. You can use as much or as little cheese as you like.
3. Let the cheese start to melt and then quickly put the two slices together to create the sandwich. Yes, this part is tricky, but I know you can do it.
4. Cook until golden brown on each side.
Serve with a nice glass of wine and enjoy immediately.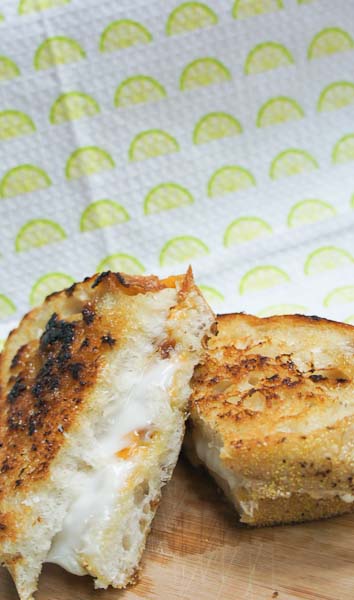 Yeah, yeah, mine got a little more than toasty brown on the center, but it was still delicious!
What is your favorite way to make a grilled cheese sandwich?