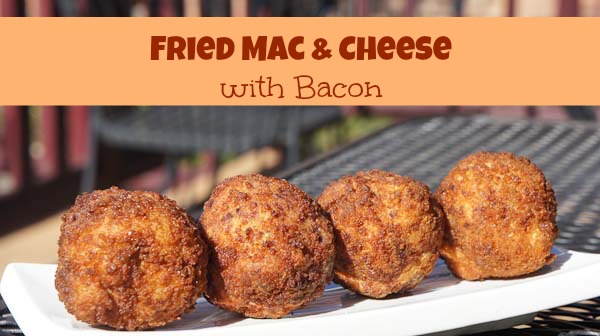 Mac and cheese is good, fried mac and cheese is delicious, but add bacon and you have some seriously awesome food! Mmmmm…..so good. Bacon makes everything better. Ok, now that you've drooled a bit, let's get down to the recipe.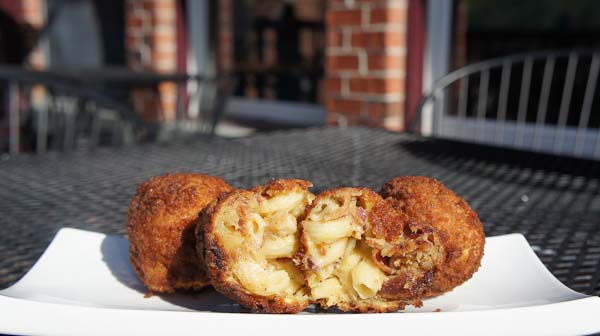 I've included a mac and cheese recipe below that Natalie from Ann Arbor Cooks shared with me, but I've added extra crispy bacon to it. You'll want to make it in advance and chill in the fridge for at least 6 hours. You want it to be pretty cool so it will hold its shape.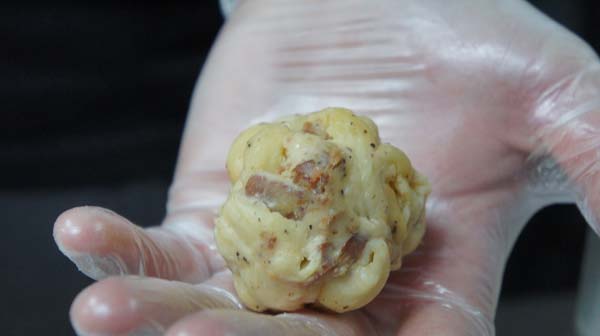 INGREDIENTS
Chilled mac and cheese
1 cup of flour
1 egg, beaten
1 cup of panko crumbs
Oil for frying

DIRECTIONS
Shape heaping spoonfuls of mac and cheese into balls. Place flour, egg, and panko in three different bowls. Roll a ball of mac and cheese in the flour, then dip in the egg, and then roll in panko.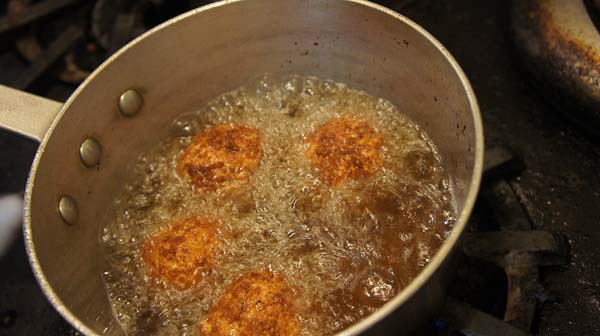 In a medium saucepan heat oil over medium heat. You don't want the oil too hot or else you'll burn the outside and the inside will be cold. Just bring the oil to a nice simmer and carefully add the mac & cheese balls one at a time. You want to make sure you have room to roll the mac and cheese balls around in the pan so don't add too many at one time.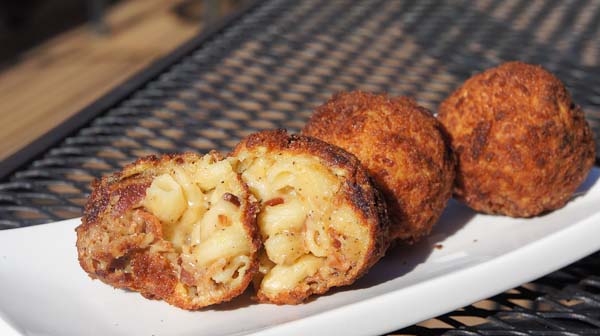 Serve warm and enjoy!
Four Cheese Mac-n-Cheese with Bacon Recipe
1/2 pound of extra crispy bacon, crumbled
1 c. Italian Fontina, grated (about 1 cup) 1⁄2 c. Stilton, crumbled
1⁄2 c. smoked cheddar, grated
1⁄4 c. Parmigiano-Reggiano, grated
1 lb. elbow pasta
1 T. plus 1⁄4 t. salt
2 t. unsalted butter
2 t. flour
1 1⁄2 c. heavy cream
freshly ground black pepper
1. Bring a large pot of water to a boil; season generously with salt; when water reaches a boil, add pasta.
2. In a large bowl, combine the cheeses and set aside.
3. In a small saucepan, melt the butter over medium-low heat; whisk in the flour until no lumps remain, about 30 seconds; slowly whisk in the cream; increase heat, bring to a boil and reduce to a simmer and cook for about 1 minute (to cook out the taste of the flour).
4. Stir in the remaining salt and pepper; remove from the heat, cover and set aside.
5. When the pasta is al dente, drain, leaving pasta slight wet.
6. Add pasta and bacon to bowl with cheeses; immediately pour cream mixture over, then cover the bowl with foil and let sit for a few minutes.
7. Uncover the bowl and stir well to completely combine.