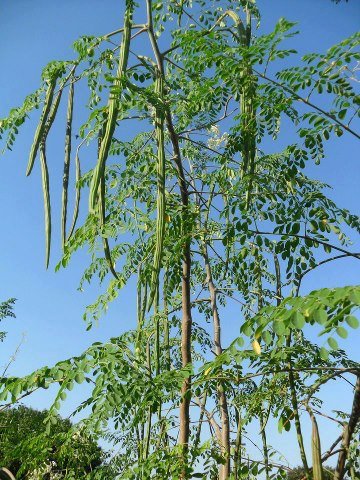 Moringa oleifera, or commonly known as moringa or drumstick tree, is a kind of tree that grows in semiarid, subtropical, and tropical parts of the world. While the Indian Himalayan foothills is the largest home of moringa trees, it can also be found in other parts of the world such as Central and South America, Southeast Asia, and other parts of the Indian Subcontinent. Parts of moringa trees are good sources of vitamins and minerals, particularly Vitamin A, Calcium, Potassium, Protein, and Vitamin C. If you are looking to improve the benefits of your green smoothie, try adding this to your usual shake. I'm always looking for ways to improve my smoothies so when I find some morniga leaves I'm giving this a whirl.
First, get your bunch of moringa leaves. You can get them from your local organic produce distributors or better yet, why not plant your own moringa tree—in a pot. Get their seeds from your usual botanical supplies shop and plant them on the largest pot you can find or on your backyard. If you have a friend who already has moringa trees planted, you can ask for a carefully trimmed branch and use it to propagate the tree. Since it takes months to grow moringa, you have to take care of it until it grows about 1-2 meters tall. You can water your plants or talk to them before or after a fun and exciting video game at FoxyBingo.com. When you're done, get about two cups of moringa and fire up your blender.
Moringa Leaves Green Smoothie Recipe
Using any kind of blender, or the Vitamix blender as recommended by nutrition buff Kim Snyder, create a rich and smooth shake by tossing in your moringa leaves, a bunch of other green stuff like parsley and celery, and other fruits to add a bit of sweetness like mangoes, strawberries, or bananas. For extra zing, try adding some cilantro or basil for a more powerful touch. Just make sure you wash your fruits and vegetables first before tossing them to the blender.
Enjoy!