If you were to look through my closet you would be hard pressed to find any stylish or fashionable clothes. Tshirts, yoga pants, jeans,  a few summer dress, and a couple sweatshirts about complete my wardrobe. That's the bad thing about working from home, I don't think about fun, stylish clothes very often. It's not that I don't want the latest and greatest styles, but we are pretty limited on choices due to our location. Good clothes shopping is about 90 minutes away so it doesn't happen very often. Plus it's always so expensive. It's all I can do to keep Em in "cool" clothes.
Things are getting a little desperate here and I really need to break down and spend some money on clothes. However, I have my fingers crossed that I might be lucky enough to win $5k worth of points in the Win Your Way Sears Holiday #styleSurprise Sweepstakes. $5k would go a long way in updating my clothes. Entering the Sweepstakes is super easy. Just a couple clicks and you'll be entered. I think it took all of 30 seconds.
My first purchase if/when I win is a couple pair of Levis and a great pair of boots. Wait? Is that fashionable enough? I tend to stay in my comfort zone, but I love a good pair of Levi's and the boots are cute!
Oh, I might have to add this sweater to my cart as well.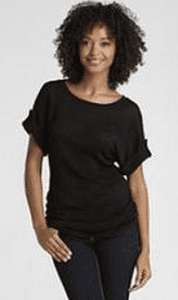 Because Sears has such great prices on their clothing I haven't even put a dent in spending the $5k. Jeans ($36.99  ) Sweater ( 19.99) and boots ($39.99). An entire outfit for less than $100. At these prices I would be able to afford a new wardrobe for the entire family!
Have you seen the ads on tv for the new line of Sears clothing?? It makes me want to take a road trip to the nearest Sears store and do some shopping.  Take a minute and watch this and let me know what you think?
Be sure to visit
Sears.com
for more everyday fashion inspiration. I know I'm bookmarking it for reference. Make sure you enter the Sears Holiday
#styleSurprise Sweepstakes
for your chance at winning $5k SYW points.
This is a sponsored post, I am a Sears blogger, though all opinions are my own.
Cheers,