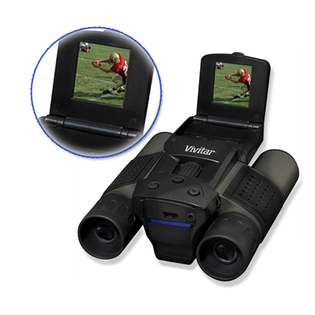 We love to go hiking and wildlife spotting. Often times my camera can't zoom in far enough to capture wildlife. I've been looking for a good reasonably priced solution. Wildlife camera lenses are expensive, cumbersome, and heavy so that isn't a very good idea. When I saw this I knew it might be a good option and it's will be a perfect gift for Alan this year.
Today's deal is for the Vivitar 8 MegaPixel Digital Camera Binoculars with 12x Magnification, Continuous Shot Mode & 1.44″ LCD Screen for only $29.99 at Sears. I had thought of buying these for Alan for Christmas earlier this year, but they were outside of our budget for each other. However, at this price I can buy these for him without guilt.
Remember, this is good for today only.
Click HERE to purchase this amazing deal of the day!!
Product Description
Take photos of what you see through the Vivitar Digital Camera Binoculars and capture long-distance sports and outdoor wildlife shots. The built-in camera takes 8MP digital pictures that can be reviewed with an option to delete them on the 1.44″ LCD display. The binoculars have 12x magnification and a 25mm lens diameter for a 303 foot field-of-view at 1000 yards. Coated lenses and roof prisms capture clear, sharp images that can be stored on an SD memory card. Interpupillary distance is adjusted with a center focus wheel and the binoculars offer a 3-meter minimum focus distance.
This is a sponsored post, I am a Sears blogger, though all opinions are my own.