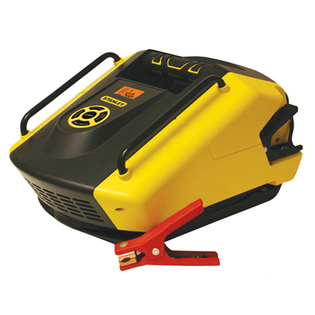 It's inevitable, you go to start your car and the battery is dead. For us, this always seems to happen in the dead of winter. Brrrr…..that is a cold time to have a dead battery. However, with the Stanley Automatic Car Battery Charger I can charge up my battery and be on the road in no time at all. Plus, and I really like this part, the built in technology determines how much charge to give your battery to maximize charge speed.
Today ONLY you can get this battery charger for only $49.99 at Sears
Click HERE to purchase this Deal of the Day!
Product Description
Charging your car battery is a breeze with this Stanley Battery Charger. This innovative device automatically selects a charge rate from 0 to 40 AMPS to maximize battery life, charge speed and maintenance. The easy to read digital-display LCD screen offers clear and concise information. Other features include spark resistant reverse hook-up protection, microprocessor controlled digital diagnostics and a moisture protection coating.
This is a sponsored post, I am a Sears blogger, though all opinions are my own.