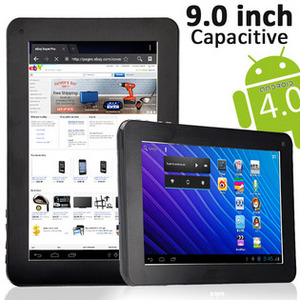 I think I'm probably the last blogger on the planet without a tablet. I've wanted one for a while now, but I've been too cheap to part with the money and actually buy one. Today's Sears Deal of the Day might just change my status. This Android Tablet is easy to use and allows me to access the web as well as a variety of applications. It looks like the perfect tablet to use when I travel.
Today's deal is the 9″ Android 4.0 ICS Tablet PC Capacitive Touch Screen with 1.3GHz 4GB, 512MB DDR RAM & WiFi Camera for only $109.99 at Sears now!
Click HERE to purchase this Deal of the Day!
Product Description
SVP TPC-PA0952 9-inches Android 4.0 Tablet PC Smart Pad with Capacitive Touch Screen, A13 1.3GHz CPU, 4GB Internal Memory, WiFi Capability, Camera and more. This is a recommended Tablet Computer in the market with superior design, easy application and top performance. It is installed with mobile Internet and multimedia device, support general applications including game, education, business and home entertainment. This Tablet PC features fast speed and stronger performance, has a system that can upgrade and support multiple programs at the same time. Let the advanced technology change your burdensome life and work!
This is a sponsored post, I am a Sears blogger, though all opinions are my own.