Teaching children to be financially responsible is an important skill for them to learn and master. There are lots of ways to teach money management and a lot of tools available to help. One of the most important ways to teach them fiscal skills is by setting a good example and teaching them through actions. Kids really do mimic what they see.
We are anti-credit card so we have taught our kids that if they don't have enough money to purchase a wanted item then they have to save money until they have enough. Using a credit card is not an option.
We also encourage them to donate money to a cause they find worthy. Em gets a very small allowance of $10/week and out of her monthly $40 she uses $10 a month to support a dog at an animal shelter. The reward of knowing she is using her money for a a cause she believes in builds character and compassion.

In addition to teaching money management through our actions there is also excellent online tools that can help. Virtual Piggy teaches children how to save and spend. I think this is especially helpful for younger children who may have a hard time associating a limited amount of cash with what they want. When the kids were younger they would always tell me to just go to the ATM if I mentioned I didn't have any money. In their minds the ATM was an endless supply of cash and not limited by my checkbook balance.
To use Virtual Piggy a parent registers for an account and then creates accounts for each of their children and sets up parental controls which include what merchants they can shop at, transaction limits, and levels of transaction approvals.
After everything is set up the child can then shop at the pre-approved virtual merchants. This is a great opportunity for them to learn how to budget the money they have available with what they want/need to buy. I really like this idea for the holidays. They can feel emplowered by shopping for friends and family all the while having to stay within the predetermined money limits.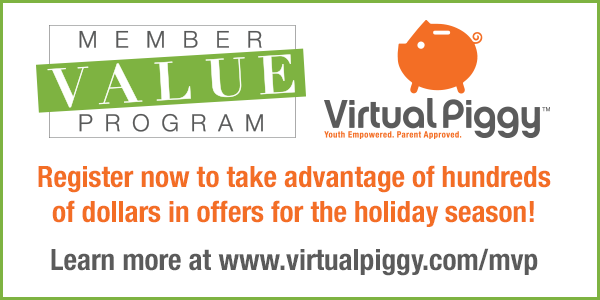 In addition to shopping, Virtual Piggy offers parents to set savings targets and charity goals and, if you like, you can approve each purchase you child makes. When you sign up for Virtual Piggy you'll want to sign up for the Member Value Program that offers discounts to select retailers.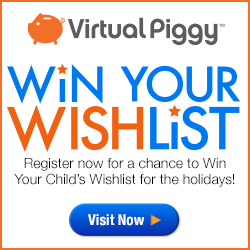 As an added bonus for signing up with Virtual Piggy you can enter the Win Your Wishlist Sweepstakes. Adults and children can create a wish list to share with friends and family (viewing is by invite only). Then, Virtual Piggy, will randomly select ten children to win the contents of their Wishlist (up to $500). Extra entries can be earned by sharing Win Your Wishlist on their social media sites (facebook, twitter, pinterest, etc) and getting friends to register and join. The Win Your Wishlist Sweepstakes ends on December 14th.
Learn more at www.virtualpiggy.com, facebook, and twitter.
disclosure: This is a sponsored post from Splash Creative Media on behalf of Virtual Piggy. All opinions are my own.