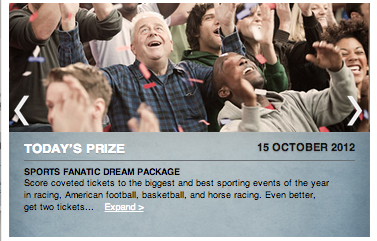 Hilton HHonors is celebrating it's 25th anniversary this year with a 25 Days of Winning sweepstakes from October 1 – 25, 2012. Every day, for the next 10 days, visit www.HHonors.com/25days for a chance to win a fabulous prize. Many of the prizes are also available using points so even if you don't win you can purchase them using your Hilton HHonors points.

The prizes during the sweepstakes are fantastic. Today you can enter to win a Sports Fanatic Dream Package which includes tickets to the biggest and best events of the year in racing, football, basketball and horse racing. This prize package for two includes:

• 2 tickets to 4 different sporting events
• Hotel accommodations for each of the events
• Round-trip airfare
• 100,000 HHonors Bonus Points
• $1,000 Hilton HHonors Gift Card

Other upcoming giveaways include: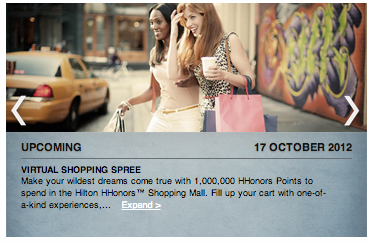 Virtual Shopping Spree: 1,000,000 HHonors Points to spend in the Hilton HHonors™ Shopping Mall. Fill up your cart with one-of-a-kind experiences, the latest electronics, great finds for your home and more.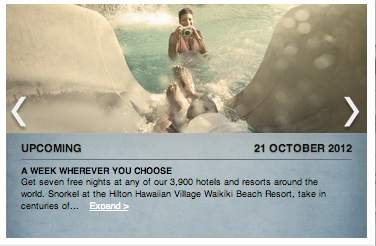 A Week Wherever You Choose: Get seven free nights at any of our 3,900 hotels and resorts around the world. Snorkel at the Hilton Hawaiian Village Waikiki Beach Resort, take in centuries of famous art at the Trianon Palace Versailles, A Waldorf Astoria Hotel, or relax with an authentic massage at the Hilton Istanbul. HHonors is everywhere you want to be.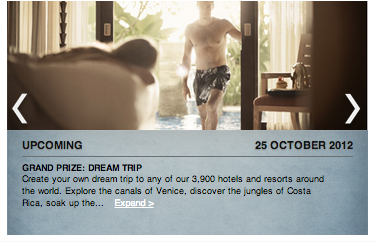 GRAND PRIZE: Create your own dream trip to any of our 3,900 hotels and resorts around the world.

This prize package includes:
• Airfare for two to your dream destination
• $5,000 Hilton HHonors Gift Cards
• 500,000 HHonors Bonus Points
• $15,000 Cash

Every day Hilton HHonors is giving away great prizes, but, here's the thing, you won't win unless you enter! Just click here and enter your email address for a chance to win a fantastic prize.  You know I've been entering. Fingers are crossed that one of us wins the grand prize!! How great would that be? If you win, you have to be sure to tell me all about your experience…I'll live vicariously through you

You still have time to enter my giveaway for a FREE hotel night at any of Hilton HHonors properties. Click here to enter to win!!!

disclosure: Hilton HHonors invited me to be a part of an HHonors Blogger Panel supporting the 25 Days of Winning sweepstakes, and I was compensated for my participation. All opinions and comments within my posts about the sweepstakes are my own.
GOOD LUCK!!!!