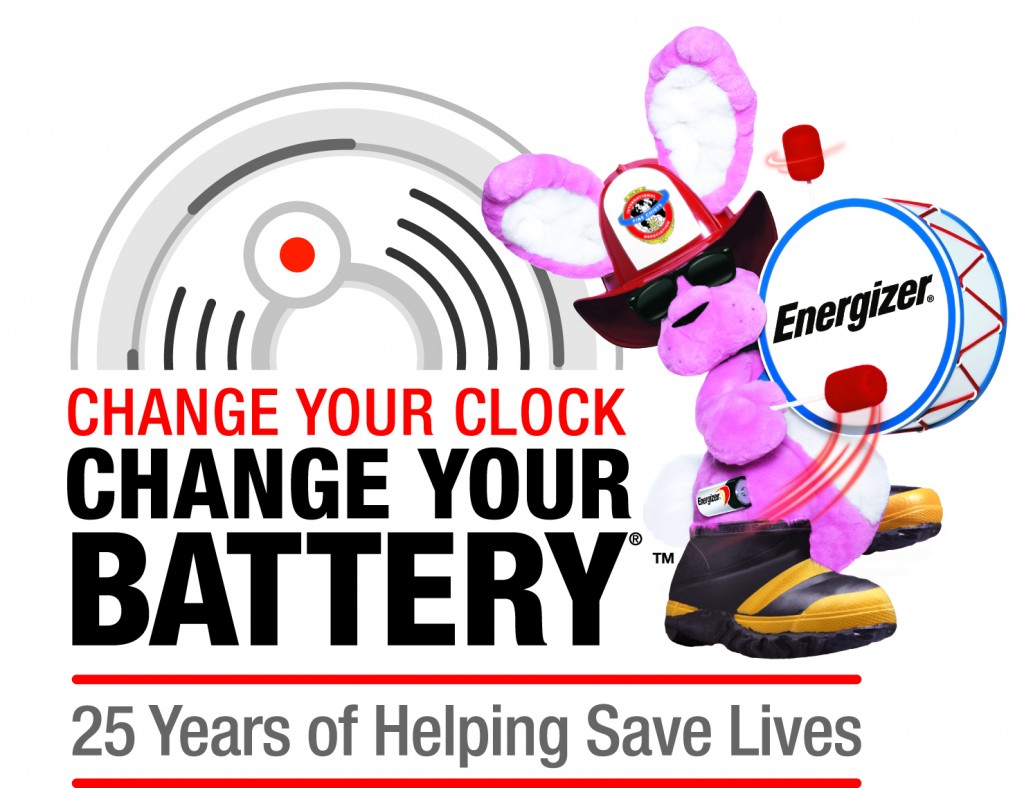 It will soon be time to "fall back" and change our clocks. I actually love this day because it means an extra hour of sleep–woot!!! It is also a good reminder to change the batteries in our smoke and carbon dioxide detectors. Twice a year, whether they need it or not, batteries are changed out. It would be a tragedy if something happened because our smoke detector had dead batteries in it.
Mark November 4th on your calendars and make a note to change your batteries. This years is the 25th anniversary of the Change Your Clock Change Your Battery ® program and I think its a great life saver. Did you know that 38% of fire deaths happen in homes with no smoke alarms and 24% in homes with alarms that fail to work (ie: dead or missing batteries)?*
Please remember to change your batteries on November 4th. It's an easy and inexpensive way to ensure your family's safety.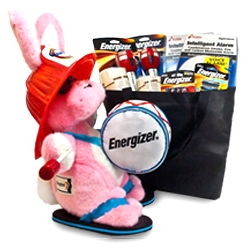 Prize DOES NOT include rabbit, but includes everything shown in tote bag.
GIVEAWAY
Energizer has provided me with a fabulous prize pack that I can award to one lucky winner. Here's what you'll receive:
A reusable grocery tote containing:
· Two packages of Energizer® MAX® Batteries with Power Seal Technology
· One Energizer® Flameless Wax Candle – Enjoy the realistic flicker of a scented wax candle without the worry of open flame or hassle of soot and dripping wax–These are AWESOME, I love mine!!
· One Energizer® Weatheready® Safety Light – Waterproof flashlight powered by AA, AAA or C cell batteries; includes safety whistle and imprinted preparedness checklist
· One Kidde Battery-Operated Combination Carbon Monoxide and Smoke Alarm–VERY IMPORTANT to have in your home.
The total value of the Family Safety Kit is approximately $78 per kit.
ADDITIONAL PRIZE PACKAGE WITH ENERGIZER RABBIT:
From October 11 through November 4, visit the Energizer Bunny® Facebook page and click on the Fire Safety Info Tab. Here you will have the chance to enter a sweepstakes to win an additional Family Safety Kit. Energizer will be giving away one Family Safety Kit per day for 25 days. Contained in the kit, valued at more than $150 is:
· One reusable grocery tote
· Two Kidde Battery-Operated Combination Carbon Monoxide and Smoke Alarms
· One package of Energizer Advanced Lithium batteries
· One package of Energizer® MAX® Batteries with Power Seal Technology
· Two Energizer flashlights
· Two Energizer Flameless Wax Candles
· One Energizer Bunny Plush Bunny
In addition you can find fire safety tips, a home escape plan that you can download and draw your family's home escape plan, as well as a coloring and activity sheet.
* Fire statistics were obtained from reports by the Fire Analysis and Research Division of the National Fire Protection Association.