We LOVE Marvel comics at our house. We have watched all the movies and, even though it's hard to pick a favorite, my fave is Thor with Iron Man being a very close second. Em's favorite is Iron Man because he's snarky. By the way, I may have a small thing for Thor. When the kids when to a local Comic Con they bought me this: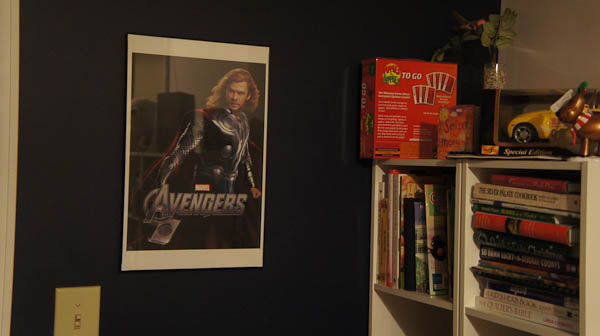 Thor now resides on my office wall. I love going to work everyday!
The good news is that The Avengers will be released on DVD on September 25th BUT if you order The Avengers Blu-Ray/DVD/Graphic Novel Combo Pack from Walmart between now and September 24th you'll be entered into the Iron Man 3 Sweepstakes. What??? It's true, you'll receive The Avengers DVD, A Graphic Novel AND an entry into the Iron Man 3 sweepstakes. The winner of the sweepstakes will be given 4 passes to the premiere of Iron Man 3–woot!! I wanna win.
I was lucky enough to receive a copy of The Avengers Graphic Novel to read and it is great. There was a bit of an argument over who was going to read it first, but we finally came to a compromise.

Oh, did I mention there is going to be a twitter party? If you love The Avengers you'll want to join me. It's going to be a lot of fun and there will be PRIZES.
WHEN: Monday, September 24th at 1 p.m. EST.
RSVP: http://cbi.as/ec-64
TWEET GRID: http://cbi.as/marvelavengers
FOLLOW: @AgentM and #MarvelAvengersWMT  
PRIZES: 4 – $100 Walmart Gift Cards!
Learn More:
Marvel.com http://marvel.com/
@Marvel on Twitter http://twitter.com/marvel
Marvel on Facebook http://facebook.com/marvel
Pre-Order Sweepstakes at Walmart
Walmart Iron Man 3 Sweepstakes/The Avengers Exclusive Blu-Ray/DVD/Novel Combo Pack Pre-Order
Who is your favorite Avenger character?
disclaimer: I am a member of the Collective Bias™ Social Fabric® Community.  This content has been compensated as part of a social shopper insights study for Collective Bias™ and Marvel.  #MarvelAvengersWMT #CBias #SocialFabric