We don't watch too many programs on tv, but one that Alan and I both really enjoy is Necessary Roughness. Necessary Roughness follows the life of Dr. Dani Santino, a psychotherapist, as she figures out life after divorce. Needing more income to support her 2 teenagers she starts providing therapy for New York Hawks wide receiver Terrance King. As her tough love therapy starts to gain recognition she begins providing therapy for other sport stars.
Necessary Roughness has four main characters: Dr. Dani Santino, Terrance King, Matt Donnally, team trainer and love interest, and Nico, mystery man who gets things done.
I think one of the reasons that we enjoy this show so much is that the characters are so believable, plus its fun getting a glimpse of how things probably work in the sports world.
My favorite character is Nico. There is something about his air of mystery and his dark side that is very appealing. Of course, Alan's favorite character is Dr. Dani because she's smart and gorgeous.
I like how the show starts with a thought provoking narration that really makes me think. Most narrations can apply to something in my life and I appreciate that. Each episode presents Dr. Dani with a new challenge to help someone overcome a stumbling block in their life. The creative writing and relationship issues between main characters really keep this series moving along.
It's nice to have one program that we both enjoy. It makes for a perfect date night without having to leave the house. The program airs on Thursday nights at 10 p.m. EST, which is past our bedtimes–lol, so we watch it on demand on Friday nights. We pour a glass of wine, make a small snack tray and settle in for an hour of Necessary Roughness. I love having an hour where I'm not responsible for anything except watching a program and enjoying some quiet time with Alan.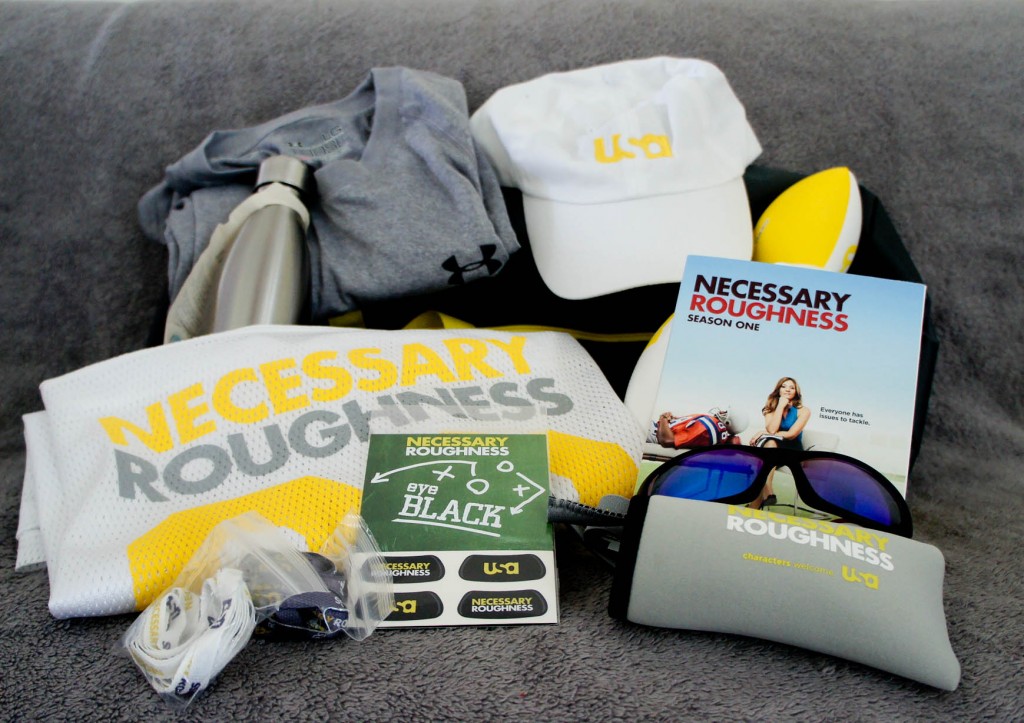 Necessary Roughness Sporty Summer Pack Giveaway includes:
• USA Roll Gym Bag
• S1 Necessary Roughness DVD
• White "88" Jersey
• Eye Blacks
• Swell Water Bottle
• Necessary Roughness Shoelaces
• Regular size & mini Football
• Sunglasses with Croakie and Case
• Under Armor Shirt
• USA / Necessary Roughness Hat
Giveaway ends 8/25/12.
disclaimer: i received a free summer prize pack to help facilitate my review.