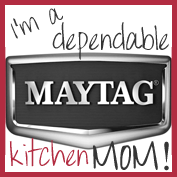 I'm so thrilled to announce that I've been selected to be a Maytag Kitchen Ambassador. Hundreds of people applied, but only 25 were selected. I just received my "congratulations" email yesterday and I'm still in shock.
What does this mean? Well, for the next four months I will be test driving all new kitchen appliances and reporting here about their performance. It also means that my kitchen will be getting a bit of a well needed makeover.
Corridor kitchen in desperate need of makeover & new appliances.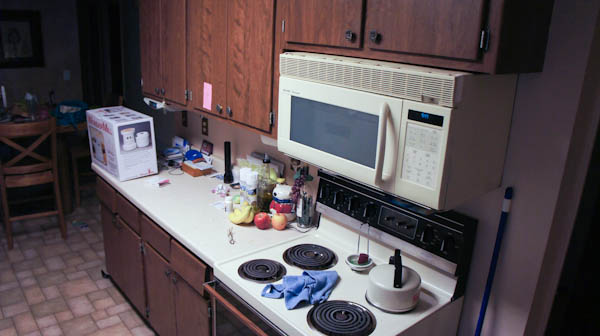 Old, old, old stove & the other side of my kitchen.
The stove I've been using was included with the house when we purchased it 20 years ago. My best guess is that the stove is around 25-30 years old. To say we are in desperate need of a new one is an understatement.
I am giddy thinking about cooking and baking on a brand new Maytag 6.2 cu. Ft. Capacity Electric Range with Triple-Choice and Speed Heat Elements. Oh my goodness, gone will be the days of having to sit by the oven while treats bake to make sure they cook correctly. Be prepared for some awesome food posts!!
Our fridge was just purchased a couple years ago, but it was a cheaper model and its been making some strange noises. Its made me nervous because it seems like all the appliances want to die at once…fridge, stove, washer, dryer. It's an appliance train wreck here folks

Since all new appliances are making their way to my home I've decided its the perfect time to do a little sprucing up. I'll be painting the walls (great 4th of July project), changing out window coverings and replacing the hardware on our kitchen cabinets.
The new appliance are due to arrive at the end of the month. Hopefully, after everything is spruced up and the new appliances are installed it will look like a brand new kitchen.
I'm so excited to share my Maytag Kitchen experience with all of you!
Disclosure: I wrote this post participating in an Maytag Moms Dependable Kitchen Ambassador program by Mom Central Consulting on behalf of Maytag. I was provided with a Maytag kitchen appliances set, including a refrigerator, microwave, dishwasher, and range to facilitate my post.
Cheers,