Ahh, summer. It's hot, it's muggy, and you don't have much of a desire to put on clothing beyond your swimsuit, much less take the time to accessorize. However, it's really easy to completely update AND upgrade your look by just throwing on or re-appropriating some accessories that you can find online, in stores, or even within your own wardrobe. Here are a few tips and tricks to look great at work and play this summer.

1. Bold, Bright Jewelry
Nothing spruces up an outfit quite like jewelry, and this summer bold, bright colors are all the rage. If you aren't interested in highlighter-colored pants or simply want to throw some bangle bracelets on and call it a day, jewelry is the way to go. Look for fun corals and turquoise, which are always on trend and will fit right in with your summer wardrobe. Both look great with everything from basic black to prints, so don't be afraid to play around with your jewelry.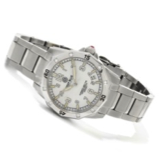 2. A Go-Anywhere Watch
Summer is a season of running around for a lot of us; we go from work to play in a matter of hours. So it's important to get a watch that makes that transition easy. Look for a fashionable, classic timepiece that 's also durable and can stand up to anything. For example, Deep Blue watches are chic, available for men and women, and some are water resistant up to 1,000 feet! The watch pictured left is available at online retailers like ShopNBC. Look for watches that are versatile and durable so they can perform double-duty.

3. A Fashion Scarf = Head Wrap or Headband
Those cute, cottony fashion scarves that have been all the rage for the past few years may feel a bit excessive in the summer. However, they can easily be re-appropriated into headbands or head wraps. Use them as an updated spin on the bandana for a relaxed but chic look. Check out how-to sites like this for fun ways to reuse and restyle your scarves! Learn how to make a rosette wrap, a classic headband, and more.
How do you update your wardrobe for summer? Are you looking forward to trying any new trends?