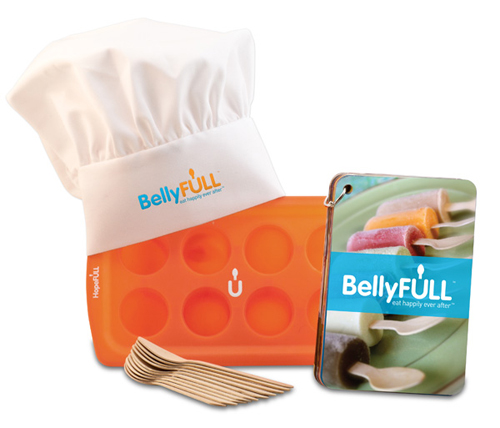 BellyFULL is a product of the HopeFULL company which was started by two sisters after a friend was diagnosed with cancer and eating became unenjoyable and not very tasty. They came up with the idea to create frozen meal pops that were full of good nutrients and also easy to eat. They included messages of hope with each of the frozen meals and the HopeFULL company was born.
Even though HopeFULL was created for cancer patients it has evolved and generated a new line called BellyFULL. BellyFULL is designed to introduce young children to a variety of fruits and veggies that they might not otherwise eat. I'm all for anything that helps kids eat better, wholesome foods.
I've shared my love of smoothies quite often here so I was glad to have the opportunity to review the BellyFULL kit. My kit arrived with the above shown items. I was most interested in reviewing the recipes. They conveniently arrive on a jump ring so its easy to flip through them. The booklet includes 20 colorful easy to follow recipes that are full of nutrition.
Here's a little secret about me. I am terrible at eating a balanced diet. Freelancing from home full time means that I work A LOT of hours. I try to grab something for breakfast, but an entire day can pass and I've had nothing else. Now, you think that would be great for the hips, but quiet honestly its not the helpful, plus my body starts to be lethargic from lack of nutrients. My plan is to make up some BellyFULL frozen meal pops that I can easily grab for lunch and keep working. LOVE THAT!
My friend Sara has graciously agreed to try out a handful of the recipes and report back to us on how they turned out, plus we'll be going away for a girls weekend and we'll make some at the condo. I'll be sure to let you know how they turn out. In the meantime, here is a recipe for you to try. Be sure to let me know how you liked it.
You can order your BellyFULL kit here.
SEA BREEZE
3/4 cup chopped pear including peel
3/4 cup chopped watermelon
1/4 cup English cucumber, peeled and chopped
1/2 cup vanilla yogurt
1/4 cup infant rice cereal*
Add all ingredients to a blender and blend until completely smooth, scraping down the sides if necessary. Pour into BellyFULL tray, add wooden spoon-sticks and freeze for three hours.
*According to the HopeFULL company adding "infant rice cereal makes it possible to add healthy grains to the recipes. Infant rice cereal is easy to blend, easy to digest and offers a nice dose of iron for people of all ages."
Be sure to check back for recipe reviews.
Enjoy!