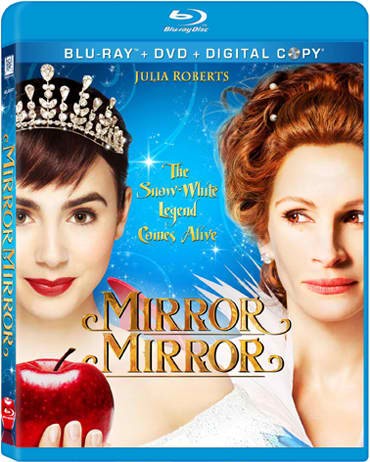 Did you see Mirror Mirror at the movie theater? I missed it so I was thrilled to be offer a free advanced copy to share with my friends.
MIRROR MIRROR is the story of Snow White, a princess in exile and an evil Queen who ruthlessly rules her captured kingdom. Seven rebel dwarfs join forces with Snow White as she fights to reclaim her birthright and win her Prince in this magical comedy."
I'm going away for a girl's weekend tomorrow and one of the events I have planned is a Mirror Mirror viewing party. I can't wait to share this movie with my girlfriends. I've heard fabulous things about it and I'm really looking forward to watching it.
In addition to the movie there will be wine and food. Plus, I have a little something something to give to the girls. I'm keeping that a secret until the party though so I can't share until then

Mirror Mirror is being released on Blue Ray + DVD on Tuesday, July 3rd. Just in time for the holiday. Be sure to pick up your copy.
Stay tuned for the follow up post to hear what everyone thought of the movie.
Cheers,