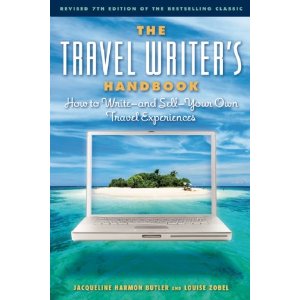 Love to travel and want to share your travel stories and strategies with other, but not sure where to begin? The Travel Writer's Handbook shows you the up and down side of being a travel writer.
When I was first asked if I wanted to review the book my answer was a resounding YES. I love sharing travel stories and travel tips and thought this is a perfect way to learn more about the industry. Then I wondered why the authors would want to share their secrets to success. Why would they want more competition in what must be a saturated market with wanna be travel writers? After reading the book I completely understand why they don't feel intimidated. It's a lot of hard work and the author's don't sugar coat it. They tell it exactly how it is. Thank goodness, because it's best going into a new field with eyes wide open.
Wondering what is covered in the book. Authors, Jacqueline Harmon Butler and Louise Purwin Zobel, share helpful tips about the following:
~internet research
~digital photography
~mobile apps
~blogging/social media
They also give great advice on topics including, but not limited to:
~your target market
~time management research techniques
~writing query letters that get the assignment
~new angles for overworked destinations
~what/how to pack
~successful interviews
~how to not "sell-out"
~selling what you write, numerous times
"The well-written travel article is filled with general information and
enough slanted specifics to appeal to a particular reader."
This book really opened my eyes to the work it will take to be successful at travel writing. I love sharing travel tips and stories here, but I'd like to branch out and share with readers who may never find my blog. If you have ever wondered what it would take to be a travel writer I highly recommend reading this book.
Rating: 5/5