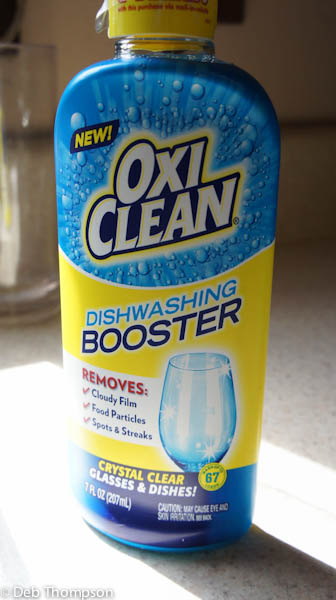 We've had a dishwasher in our house the entire time we've lived here. However, we haven't used it the last year or so because it didn't seem like it was getting our dishes very clean. The dishes had waterspots on them and often felt like there was a residue on them. Ick!! To say we were disappointed with our dishwasher is an understatement. Alan is pretty handy and he couldn't figure out why the dishwasher wasn't working so we ended up just washing by hand. <<<---ugh!
After some research I found that in July 2010 there was a ban on phosphates that required the reformulation of dishwasher detergents. I guess it was those phosphates that were keeping my dishes clean because it was around then that I started noticing my dishes not being as clean as they should be.
Recently, we thought we would give the dishwasher a try again. I heard about OxiClean® Dishwashing Booster and kept my fingers crossed that it would solve the water spot and residue issues. To my complete surprise it worked!!! Commence happy dance. Now we use the dishwasher at least once a day and sometimes more if I've been baking and cooking for blog posts.
OxiClean® Dishwashing Booster has a multi-action formula that dissolves the cloudy film caused by hard water that can build up during the rinse cycle. To make sure OxiClean® works for you make sure to follow the instructions on the bottle.
I decided to run a little experiment to show you the power of OxiClean®. I used this tray to cool down a blueberry compote I made (it was delicious and there is a recipe coming soon!):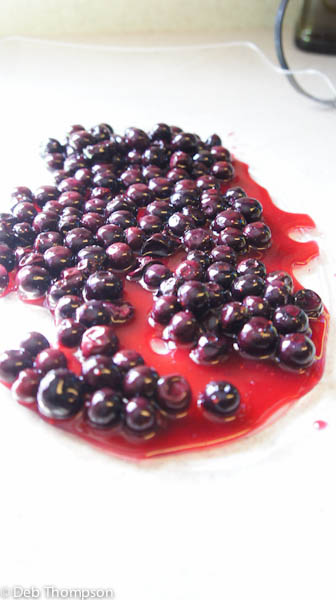 I then added the tray to the dishwasher with my normal load: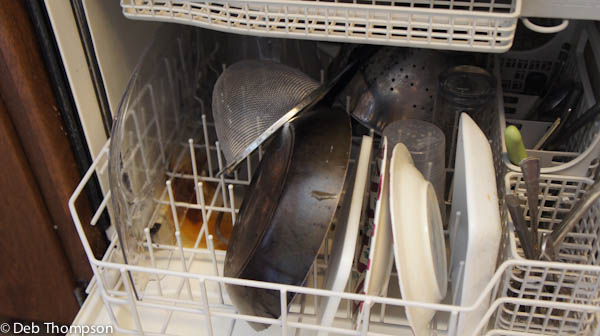 I let the dishwasher run its course and pulled out the tray and it was sparkly clean:
It's kind of hard to tell since its a clear dish and I was having trouble finding a spot to photograph it without sharing my dirty house (honestly, is there ever enough time in a day to get everything done)

Here's another angle: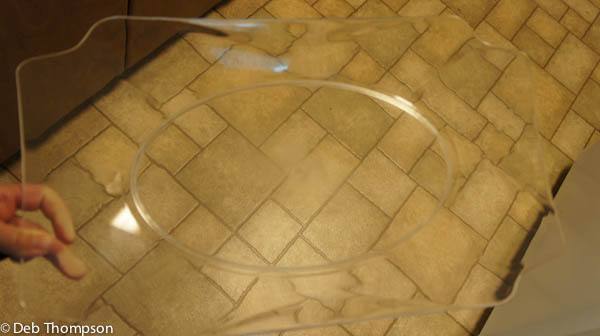 Here's a cup from the same load…no spots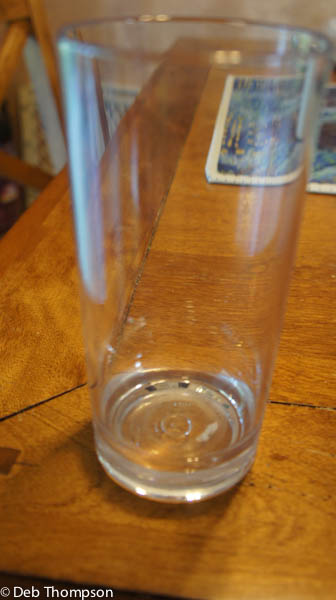 It seems like I wasn't the only one with dishwasher problems. Here's some interesting results from a dishwashing survey:
~49% of respondents feel frustrated because they don't know what's causing the spots on dishes.
~top three things that consumers believe cause the spots/cloudy dishes are dishwashing detergent (50%), hard water (34%), dishwasher not working well (30%)
~over half of the respondents switched their detergent 2-5 times trying to solve the spots/cloudy dishes.
Yeah, I agree with those respondents. I'm so glad that we found OxiClean®. It is saving a lot of time not having to hand wash all the dishes.
You can learn more about Oxi on Facebook.
Disclaimer: I wrote this review while participating in a blog tour by Mom Central Consulting on behalf of OxiClean and received a product sample and serving tray to facilitate my review, and a promotional item to thank me for taking the time to participate.
Cheers,
Use the stats below and the attached fact sheet with product information to help aide your review.