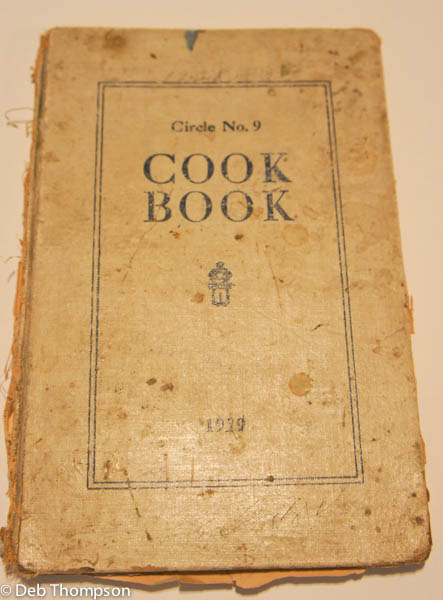 I came across a cookbook that belonged to my paternal grandmother, Isabel, the other day and set it aside to look at later. I'm quite sure that's why I found it where it was. I had set it aside at another point in time and it ended up buried under piles of papers and books. I'm glad it stayed at the top of the pile this time.
The cover is in rough shape, but the title and year are both quite clear: Circle No. 9 Cook Book 1919. I done a quick Google search to see if I could find any other information about the book, but came up empty handed. I'm not sure who the publisher is as the copy write page is covered with recipes that have been glued down on it.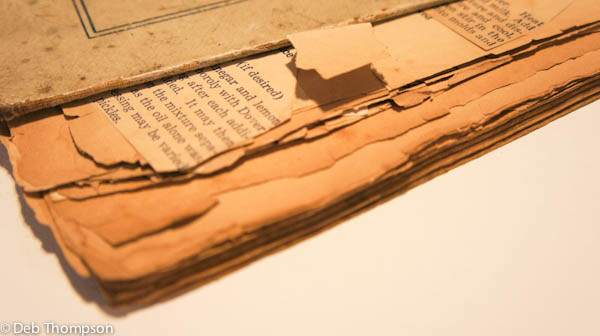 Tonight I sat down and started gently looking through it. The first half of the book is no longer in the binding and the pages are old, yellow & brittle. Grandma's handwriting is almost a faint memory and the edges of some of the pages are missing making you infer what the directions might say.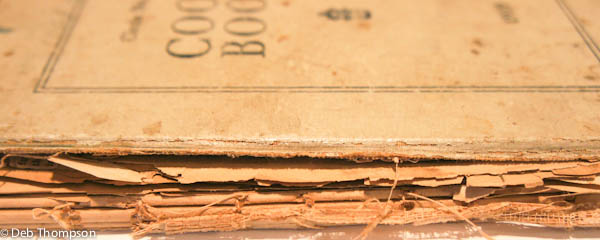 It makes me feel nostalgic. Missing someone I never really knew and have only a vague memory of. I wonder if she thought about her grandchild reading the words she had written or wanting to try the recipes she had saved.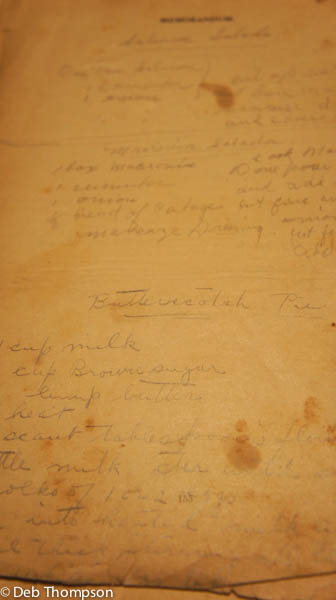 Tucked in the 1919 cookbook were newspaper clipping from a 1933 Flint Journal. Recipes for Apples All Ways, Ginger Apple Compote, and Recipes for Winter Menus. There was even a menu plan for the week.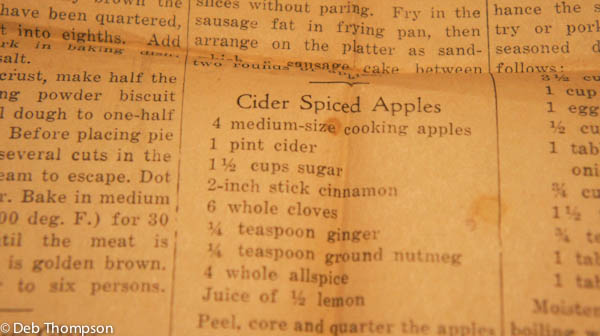 My favorite newspaper clipping is titled Salt and Pepper Shakers. It goes into some detail which salt & pepper shakers should be used for each meal and for formal and informal events. I wonder what Grandma would think of my plastic Tupperware shakers that are used for every meal and event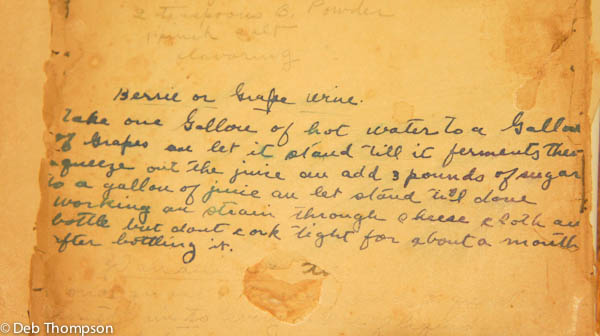 When I seen this recipe handwritten on a page in the book I knew I was my Grandmother's kin. Anyone that takes the time to write out the recipe for wine is alright in my book. Part of the recipe is missing, but I'm going to do my best to recreate it.
Looking at Grandma's cookbook I think about leaving notes in my favorite cookbooks for some, yet unknown, (great)grandchild to read years from now. I wonder if my cookbook will be lovingly held by that child while s/he contemplates the story of my life or if it will just end up in a pile at a second hand store. It gives me pause and makes me wonder, with the constant movement and growth of information and technology, what my (great)grandchildren will have to remember me by and if it even matters. I guess that's not a concern for me to have. I'm quite certain Grandma didn't worry about what token of her life a grandchild would hold dear, but I'm so glad this small part of my history didn't end up in a bin at Goodwill. Instead it ended up lost amongst the piles of my busy life until I was ready to find it. Taking a pause and thinking about years long past was exactly what I needed tonight.
Do you have a family cookbook you cherish?