I think every trip should include a bit of kitschy roadside attractions so when I seen that Dash Around Tours offered a Roadside Tourist Dash I signed up.
Dash Around Tours offers 6 different tours so there is something to fit every personality. My only regret is that we only had time for one tour. There is a Kissimmee Kulinary Dash that I would have loved to go on. Alas, we simply didn't have time. However, I'm hoping to send some blogging friends so I can enjoy the dash vicariously through them.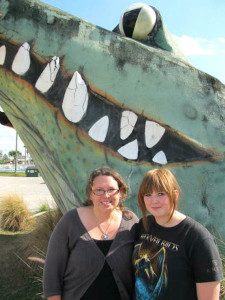 We met Barry, owner & tour guide, at the Monument of the States tower in downtown Kissimmee. We really couldn't have asked for a better meeting spot. I mean, talk about kitschy. This monument is the epitamy of kitschy Americana. Standing around 50 feet tall it has rocks and minerals from all over the world embedded in it. I seen a couple rocks from Michigan—how cool is that!
As we climbed in Barry's 15-passenger van for our Dash I was pleasantly surprised to see that there was a cooler full of ice-cold water for our enjoyment. It gets HOT in Florida and staying hydrated is so important. It's this kind of attention to detail that let me know Barry would be a great tour guide.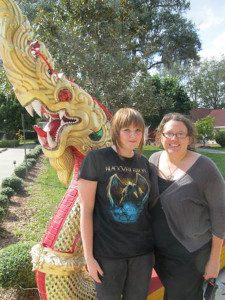 As we pulled away from the Monument of the States Barry let us know what we could expect from the tour and made sure to let us know to ask questions along the way. As it turns out Barry is very knowledgeable about the area and about travel in general (he has 20+ years as a travel agent).
Our tour took us along Hwy 192 and if you are familiar with that area you know just how kitschy it is. Kissimmee has everything from a Buddhist temple to a Paradise Inn sign complete with bombs and many other attractions; some hidden, some tucked away, some whose days have come and gone.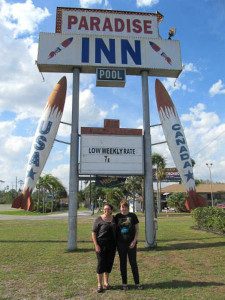 Dashing around Kissimmee from attraction to attraction was a lot of fun as we learned a bit about each of the roadside attractions and the area. One of the great benefits of touring with Dash Around Tours is that Barry takes photos of you at most of the unique locations and then uploads them to website where you can save them for free. I don't know of any other tour company that includes a photo package with your tour.
Also included with each tour: complimentary transportation, Zephyrhills Florida spring bottled water, local guide service (by the local Orlando Owner himself) and food and/or beverage samples themed to the tour itinerary. All this at NO EXTRA CHARGE.
Ready to book your tour? Follow this link to book online: http://www.getyourguide.com/en/tour_search.php#what=supplier:2207
Happy Travels,