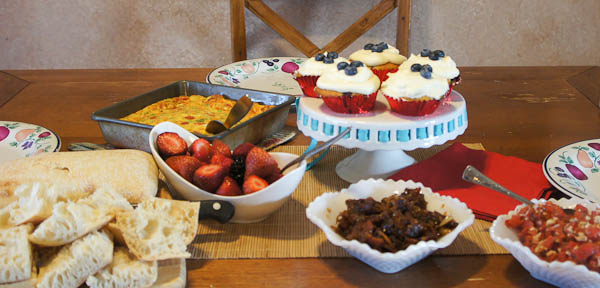 After being gone for almost a month I was eager to catch up with my girlfriends. I invited them over for a Sunday brunch and decided to serve an egg dish, Ecce Panis bread with 2 savory toppings, some fruit and lemon-blueberry cupcakes. Oh yeah, this was going to be a tasty brunch.
Of course, I needed to go to the store to purchase everything.  You can read about that adventure here.
As I was cooking one of the toppings I burned my hand really bad. Oh, the agony. Alan tried to help out in the kitchen, but I have a terrible time directing while other people do the work. So, I figured out a way to keep an ice pack on my hand and got back to work.
I made the cupcakes the night before and had to taste test one (they are so delicious!). You can find the recipe here: http://theregoesthecupcake.com/2011/05/16/lemon-blueberry-cupcakes/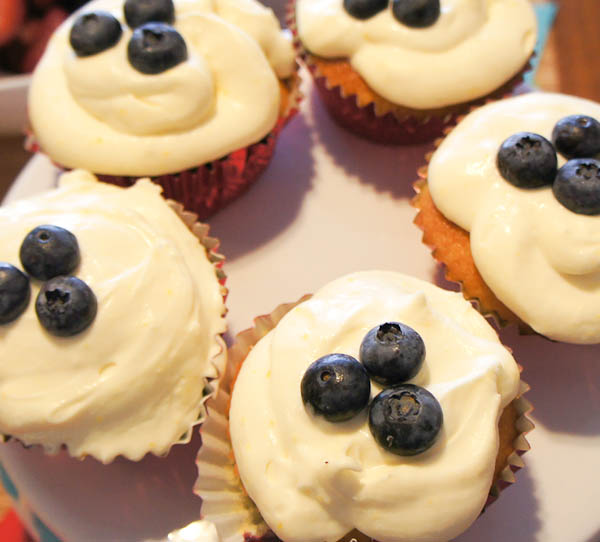 I had the egg bake in the oven and just had to whip up some savory toppings to go with my Ecce Panis bread. If you haven't tried Ecce Panis bread before you should give it a try. I found it in the bakery section at Walmart. Just look for the red label. It's a great price as well.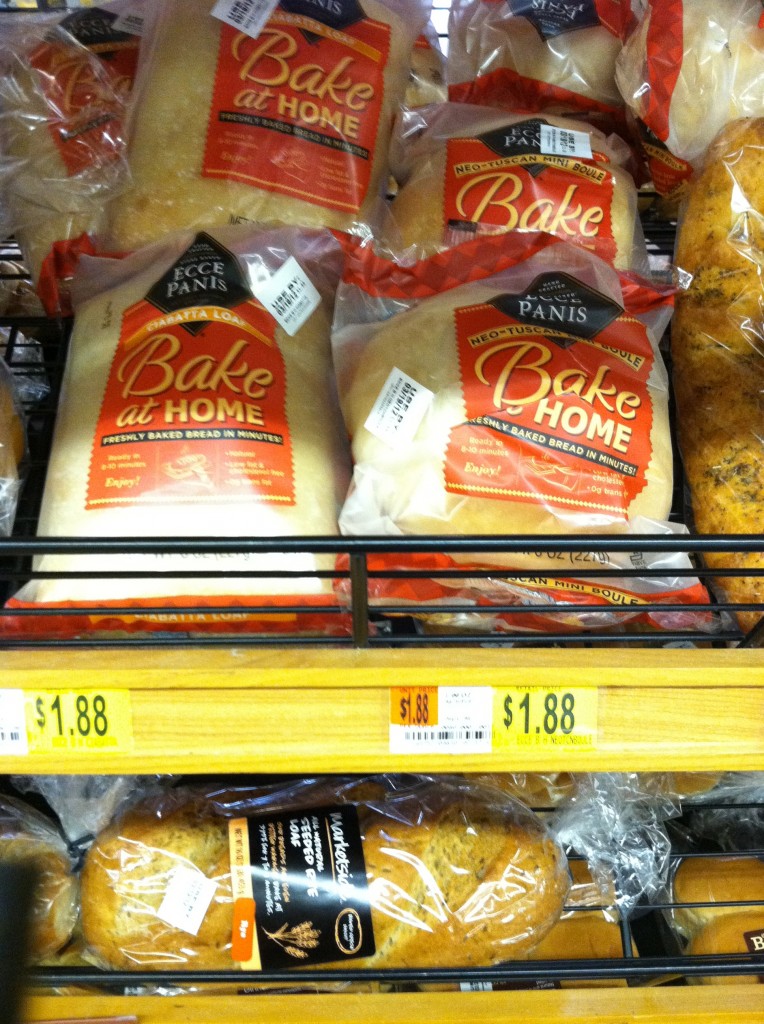 I bought two Cibatta and a Mini Boule bread. I served the Cibatta at brunch. It is so light and airy and taste fantastic. I love that you just heat it up in the oven and it comes out smelling and tasting like homemade. I should have hid the wrappers and I could have told the girls I made it from scratch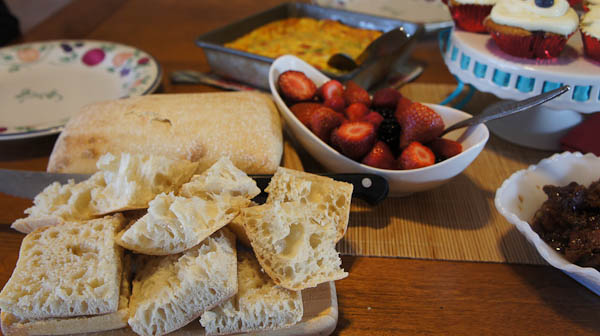 Look at how lovely the bread looks. Oh, yum!!! Em asks me to buy this bread all the time now. We all really love it.
I made two different toppings for brunch. A tomato bruschetta topping and a roasted garlic, bacon, and onion marmalade topping.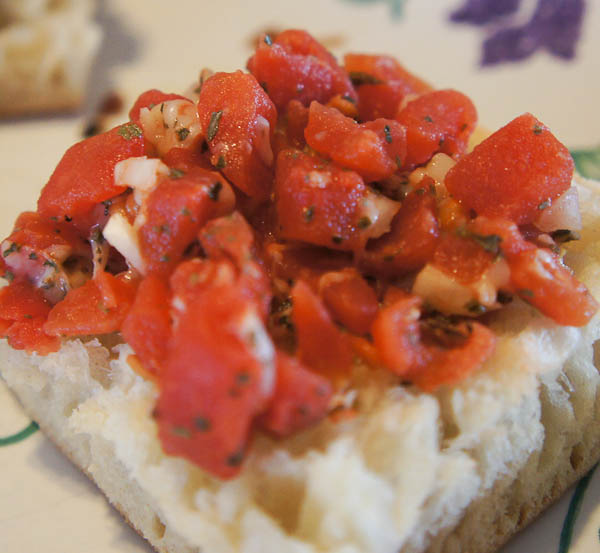 The bruschetta topping is so easy to make (well, when you use my cheater method). Here's what you need:
1 can of high quality chopped tomatoes (I only use Red Gold), drained well.
3 cloves of garlic, finely diced
Handful of basil, cut into very small pieces or use dried basil to taste (I used dried since I was out of fresh)
Mix all together and let set for at least an hour. Before serving toss in some freshly grated parmesan cheese and heat up to take the chill out. Serve warm on Ecce Panis bread.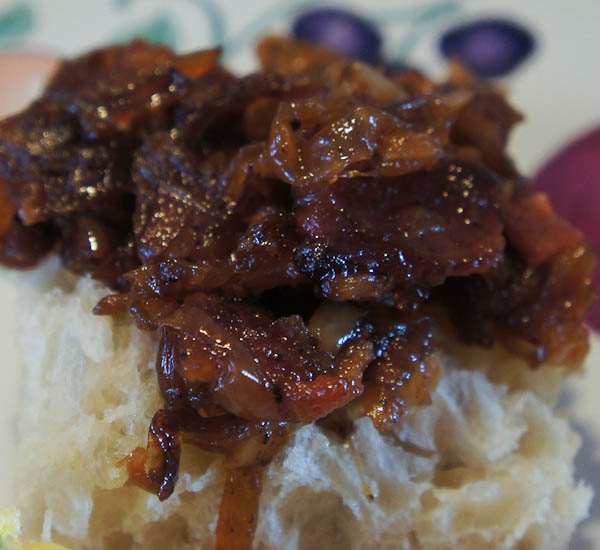 The marmalade topping is a bit more involved and is what I was cooking when I burned my hand. This was my first time making this marmalade, but it will not be the last. It is so good!
Roasted Garlic, Bacon, and Onion Marmalade
Prep time:
Cook time:
Total time:
Tasty, savory bread topping
Ingredients
2 heads of garlic
6 slices of bacon
1 tablespoon extra virgin olive oil
2 large yellow onions, sliced
⅓ cup water
2 tablespoons red wine vinegar
1 tablespoon brown sugar
salt and pepper, to taste
Instructions
Preheat oven to 400 degrees.
Cut off ¼ to ½ inch of the top of the garlic bulbs, leaving the tops of the individual garlic cloves exposed. Drizzle with olive oil and top with a bit of salt, Wrap tightly in foil and bake for approximately 30 minutes. You want the garlic to be soft.
After garlic is soft let it cool off enough so that you can handle it. Remove the garlic from the skins and chop.
Using a large pan heat the olive oil over medium heat. Add the bacon and cook until crispy. Remove from pan and add onions. (BE CAREFUL when adding onions not to burn yourself). Cook for about 15 minutes or until tender. Reduce heat to medium low, add water, cover and cook until the onions are a pretty brown color. This takes about 45 minutes.
When the onions are done, add crumbled bacon, red wine vinegar, brown sugar, roasted garlic cloves, and salt and pepper. Cook until most of the moisture is gone.
Serve immediately.
Notes
I found this recipe at: http://rx4foodies.wordpress.com/2011/05/10/roasted-garlic-bacon-and-onion-marmalade/ I made some slight adjustments.
Brunch was a success and everyone loved the Ecce Panis bread and the toppings. I look forward to serving this bread at many more get togethers.
Visit Ecce Pannis on Facebook.
Save 55 cents on your next purchase of Ecce Panis Bake At Home bread here. Valid 3/26/12 – 5/31/12 or while quantities last
Disclaimer: This shop has been compensated as part of a social shopper insights study for Collective Bias. #CBias. All thoughts and opinions are my own.