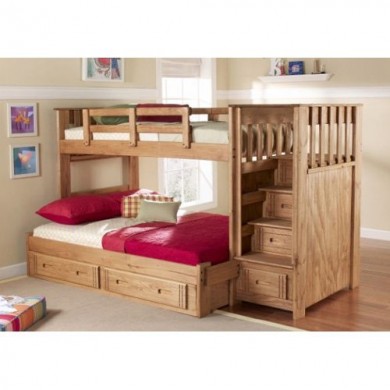 If you have kids then you are going to have sleep overs. That is just a reality that you will have to come to grips with. I think Newton described this phenomenon in his physical laws. If you are looking for something new for an idea for your next sleep over then you should consider a bunk bed sleep over.
A set of twin over twin bunk beds should be a staple in a kid's room even if you have a single child. They make sleep overs much easier because they offer twice the bed space but do not take up any extra space in the room. If you have a guest room that you plan to use for this sleep over then you should fill it with bunk beds and push them all together into one gigantic set of bunk beds. I don't know what it is, but the gigantic sleeping space makes it feel like more of a fortress and a jungle gym than a bed. It is really exciting and will make those kids giddy an excited.
Set up a large Television at the foot of the bunk beds so you can show movies and TV shows while the kids jump around on the beds and act like little monkeys. One of the best things about this tactic is that once they are tired enough to fall asleep they are already in bed and ready. Just make sure that they are already in their pajamas so they can just lie down on those gigantic bunk beds and pass out.
Along with building a giant set of bunk beds and lining up a series of movie that the kids will love, you need to setup snacks and a fun menu. Just make sure to serve food that isn't messy so you don't have to change the sheets on each set of bunk beds.
disclaimer: this has been a sponsored guest post.
Cheers,