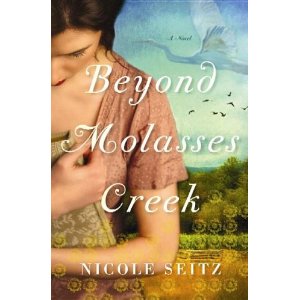 TITLE: Beyond Molasses Creek
AUTHOR: Nicole Seitz
Buy on Amazon


MY THOUGHTS:
From the very first page I was drawn into two worlds. One of wealth and prosperity in the U.S. and one of despair and slavery in Nepal. A story of two very different women whose paths cross in the most unlikely of ways. In the background a secondary love story that was never meant to be. The story is both heart breaking and joyous. It is bittersweet from page one to the end.
Not many books cause me to feel the heartbreak of the characters, but Ms. Seitz writes so poetic that you can't help but feel what the characters are feeling. Just as I felt their torment I also felt their joy. Once I started reading Beyond Molasses Creek I was unable to put it down.
I really recommend adding this book to your "to be read" list. I don't think you'll be disappointed.
MY RATING: 5/5
ABOUT THE BOOK:
Having traveled to the ends of the earth as a flight attendant, Ally Green has finally returned to the Lowcountry to bury her father as well as the past. But Vesey Washington is still living across the creek, and theirs is a complicated relationship–he was once her best friend . . . and also part of the reason she's stayed away so long. When Ally discovers a message her father left behind asking her to quit running, it seems her past isn't through with her yet.
As Ally's wandering spirit wrestles with a deep longing to flee again, a young woman on the other side of the world escapes her life of slavery in the rock quarries of Nepal. A mysterious sketchbook leads Sunila Kunari to believe there's more to her story than she's ever been told, and she's determined to follow the truth wherever it leads her.
A deep current intertwines the lives of these three souls, and a destiny of freedom, faith, and friendship awaits them all on the banks of Molasses Creek.
ABOUT THE AUTHOR:
Nicole Seitz is the author of several critically acclaimed novels – The Inheritance of Beauty, Saving Cicadas, A Hundred Years of Happiness, Trouble the Water, and The Spirit of Sweetgrass. She is a graduate of the University of North Carolina at Chapel Hill's School of Journalism, and also has a degree in Illustration from Savannah College of Art & Design. Her paintings are featured on the covers of her books. Visit her at @NicoleSeitz, Facebook and www.nicoleseitz.com for more information.
See what others bloggers are saying about Beyond Molasses Creek http://litfusegroup.com/blogtours/text/13454766
disclaimer: I received a free copy of this book in exchange for my honest review.
Cheers,