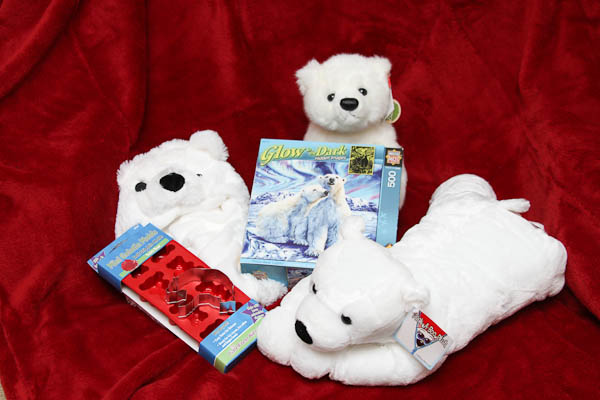 Coca-Cola is partnering with the WWF to help save the polar bears habitat. Coca Cola has made an initial donation of $2 million and is matching donations, through March, of up to $1 million. Coca-Cola will match YOUR donation if you simply text the code on specially-marked Arctic Home soda packages to 357357 or if you prefer you can make a donation online at www.ArcticHome.com.
Did you know that Coca-Cola has had polar bears as part of their tradition since 1922? Me neither. I love the new packaging that Coca-Cola has featuring the polar bears. We love polar bears and hearing that their habitat is threatened makes me want to do what I can to help.
GIVEAWAY
The WWF and Coca-Cola is providing one of my readers with a Polar Pack package. These items are adorable, you'll want to make sure to enter. The package includes the following and is valued at $100:
Polar Bear Hat with attached paw mittens
Polar Bear Stuffed Animal
Polar Bear 3-D Puzzle
Polar Bear  Shaped Pillow
Ice Cube Tray – Bear Shapes
Polar Bear Cookie Cutter
Red Throw Blanket
HOW TO ENTER: (be sure to leave a separate comment for each entry. you absolutely MUST leave an email address in your comment so I can contact you if you win)
+1 leave me a comment telling me you want to win.
+1 visit arctichome.com and tell me something you learned/likes.
+1 if you follow me on facebook
+1 if you follow me on twitter
+1 if you follow me on Google Plus
Giveaway ends on February 5th, 2012 at 5 p.m. EST.
Good Luck