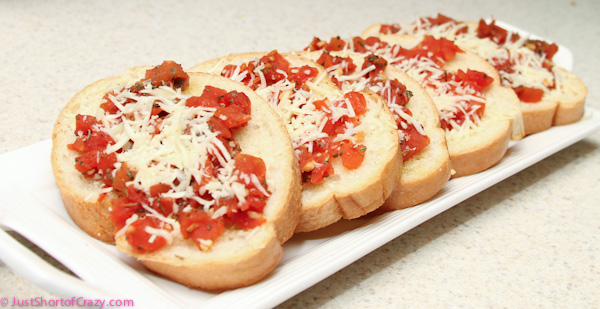 These are so tasty and incredibly easy to make. You can have these made and on the table in about 10 minutes. I know! I told you it would be easy. I don't have exact measurements for the ingredients as I tend to just toss items in until it "looks" right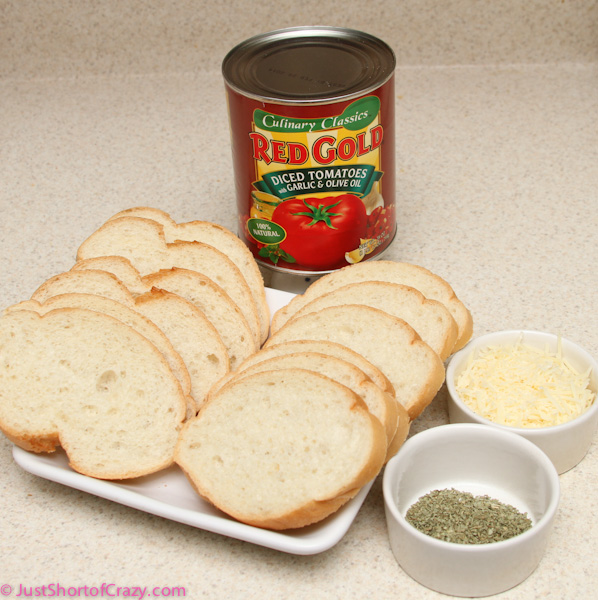 Ingredients Needed:
~Red Gold Diced Tomatoes with Garlic & Olive Oil <<<—love
~French Bread, I buy mine in the deli department already sliced
~Dried Basil (at least 1 tsp)
~Romano Cheese (handful)
~Olive Oil
Directions:
1. Drain all liquid off the tomatoes. Add basil and mix together.
2. Brush each slice of bread with a bit of olive oil and top with a good helping of tomatoes. Pop in the oven at 350 for 5 minutes or until bread is toasty and tomatoes are hot. Remove from oven, top with cheese and return then place back in the oven and heat until cheese is partially melted.
3. That's it. You are done! Now, try to contain yourself and only eat a couple slices. It's so hard to do. The Red Gold tomatoes are just so tasty.
disclosure: Red Gold offered me the opportunity to win a ticket/trip to the Taste of NFL held during the Superbowl in exchange for telling people about my love of Red Gold. Since I love Red Gold I figured it was a win-hopefully win situation. So, be prepared to see a lot of yummy delicious Red Gold recipes and talk between now and December 31 and if I win, well, watch out because I'll be screaming my love of Red Gold from the roof tops 

 Y'all keep your fingers crossed for me please. Regardless of the opportunity to win all posts are honest and blogged with integrity.
Cheers,