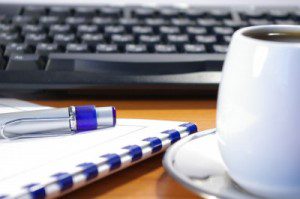 Copyright (c) 123RF Stock Photos
Lately I have had some emails asking how I have been able to work from home. Instead of replying to each email I decided to just write up a post and then refer people here.

 I don't know how helpful I can be, but I'm willing to share how I landed where I am. I have to warn you though that its not all sunshine and flowers so if you think working from home is going to be a walk in the park think again. I'll share some of the negatives of working from home later, first, lets talk about how to get started.
When you are trying to figure out how to go about getting started in working from home it can seem a bit overwhelming. Here's a quick checklist to get you going in the right direction:
Determine what skills you have to offer an employer.
Determine how many hours a week you'd like to work.
Have a good computer. Trust me on this. A little netbook is not going to cut it.
Make sure you have an excellent internet connection. The majority of work will happen online, be prepared.
If you need additional skills consider going back to school for more education. One of the leading degrees right now is a doctorate in leadership. The great thing is that most degrees can be completed online saving you time and money.
Ok? Good to go? Now that you know your skills, hours and are all set with equipment let's look at where to find work at home jobs.
There are two sites that I recommend for finding freelance work that you can do from home. Both require a fee to be paid to access the information, but I think it's money well spent.
HireMyMom.com I found a part time job here as a virtual assistant so the quarterly fee quickly paid for itself. Some of the types of jobs that are available include: virtual assistant, bookkeeper, website design, social media coordinator, marketing assistant, writer, graphic designer, and much more.
Flexjobs.com In my position as virtual assistant I am tasked with finding new employees. I post jobs at HireMyMom and at Flexjobs. Flexjobs is just that. All of the jobs offer some type of flexibility. They have jobs available for every type of skill set; administrative, legal, medical, computer work, writing, etc, etc.

Sign up for one or both of these site and start searching for jobs. Write a fantastic cover letter, spruce up your resume and start applying. When you talk to a potential employer make sure you both agree to the number of hours you'll work each week.

There are a lot of freelance, work from home sites, most of which don't require you to pay to use. However, the two I mentioned above are the ones I find offer the most honest work. Working from home can be awesome. I really enjoy it. However, I have found 3 downsides to working from home:

* You have to like being alone. You really don't have any interaction with other people throughout the day. I like alone time so it's a great fit for me, but if you have to be social with other adults throughout the day you may want to reconsider working from home.
* You think you'll have time to do housework, laundry, cooking, etc. Depending on your schedule you may have time for household chores, but I work at least 8-10 hours a day, sometimes more. I thought working from home would allow me more play time, but the exact opposite has happened.  I still want a cook and a maid to help me out around the house

*I work A LOT. Gone are the 8 hour days and weekends off. Of course, this completely depends on the number of projects you have. Right now I have 4, including my blog. The good thing is you can work as many or as few projects as you want depending on the schedule you want to keep.
There you go. Some tips on working from home. I will be posting soon about making money from blogging so stay tuned.
Leave a comment sharing your favorite work from home tips or suggestions.
Cheers,