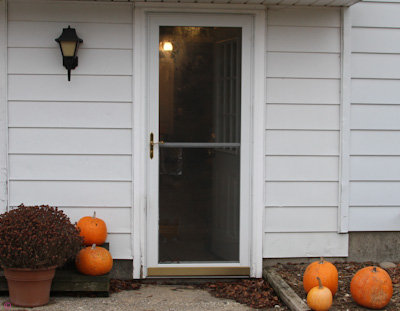 I've been trying really hard this year to decorate the outside of the house for each of the holidays. I feel like I'm so busy trying to keep work coming in that I let things like holiday decorating slide off the to-do list. It's embarrassing, but I still have pumpkins outside our door and its the end of November. I mean, really, those things need to go. It looks like I should probably sweep up some leaves as well. Sigh,,,,so many things to do so little time.
I haven't shopped at Kmart for years, but we were visiting relatives that have a Kmart nearby so I decided to investigate what they might have available for outdoor decor. A quick search of their site brings up a lot of options. I've been looking at the spiral lighted trees for a while so I was thrilled to see them on their website. I also like the deer…decisions, decisions.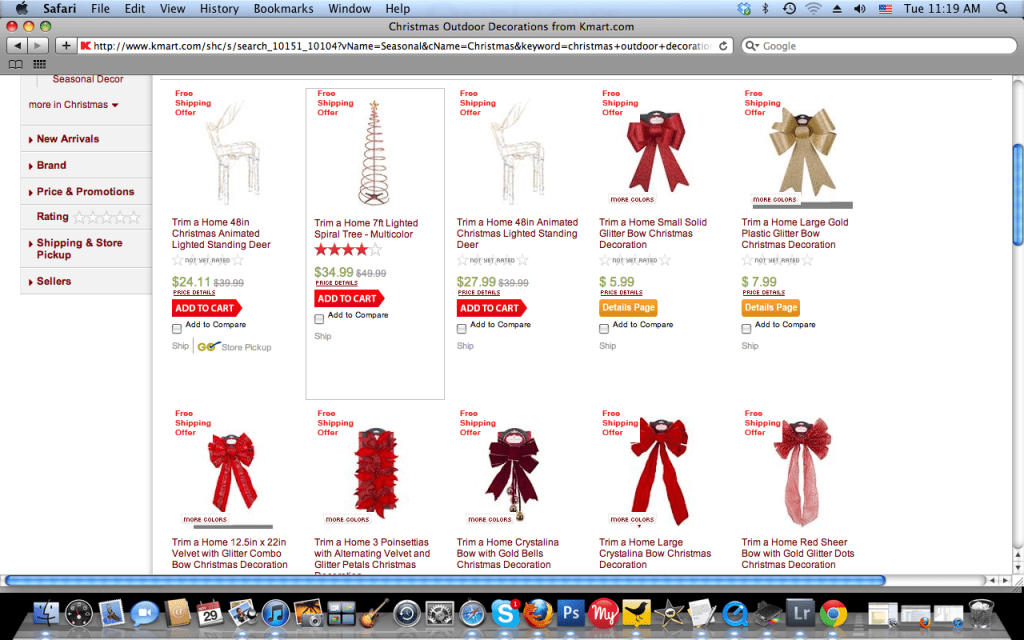 I was hoping that the trees were on display at the store so I could see if they would hold up in our harsh winter. My goal was to only spend a $100 on outdoor decorations. We've never really decorated outside, besides adding lights to a tree, so I was hoping to get a fair amount of items for a Franklin.
Kmart had a large display of outdoor decorations.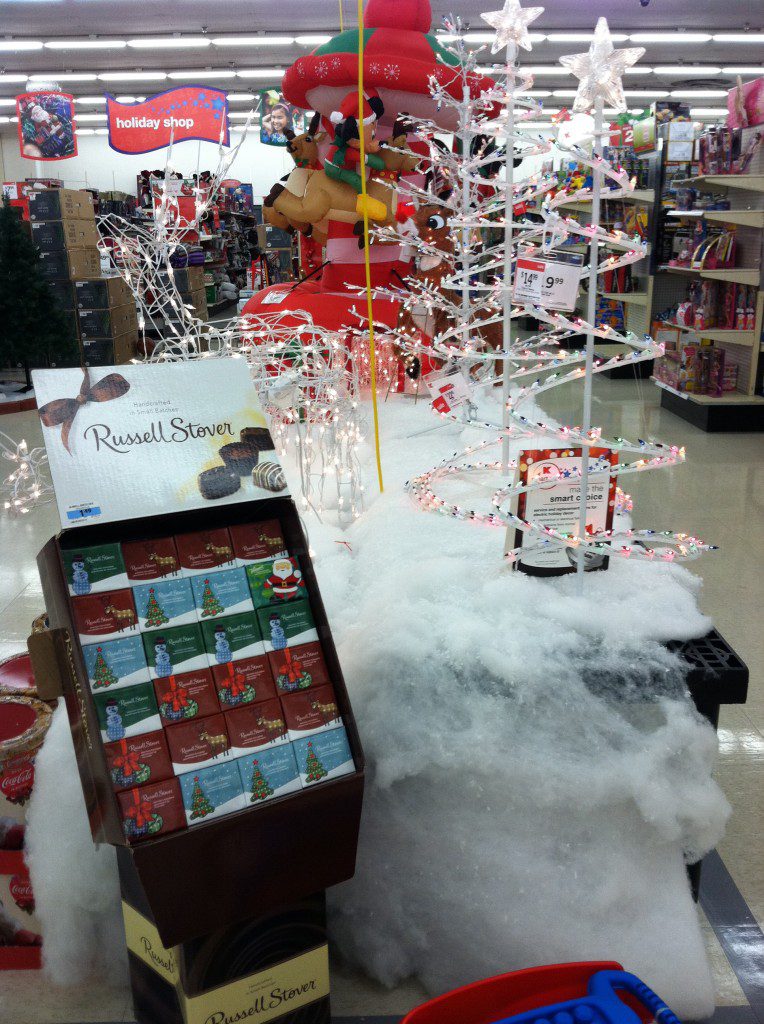 I was happy to see the spiral trees AND the lighted deer. I really like the spiral trees and they are reasonably priced. Original price is $29.99 for a 250 lights tree and $19.99 for a 100 lights tree. To sweeten the deal, both are on sale (it is Black Friday after all) and it brings them down to $22.49 and $14.99.
I didn't want the multi color lights and didn't see any white light trees. However, after wandering around Christmas decorations for a while I spotted a couple white light trees on a top shelf in the back of the store—SOLD! I had Alan grab those for me and I put them  in my cart. Oh, they thought they could hide, but I found them

My only concern with the spiral trees is that they are not very heavy. A strong wind will knock them over. I'm going to have to find a way to secure them to the ground.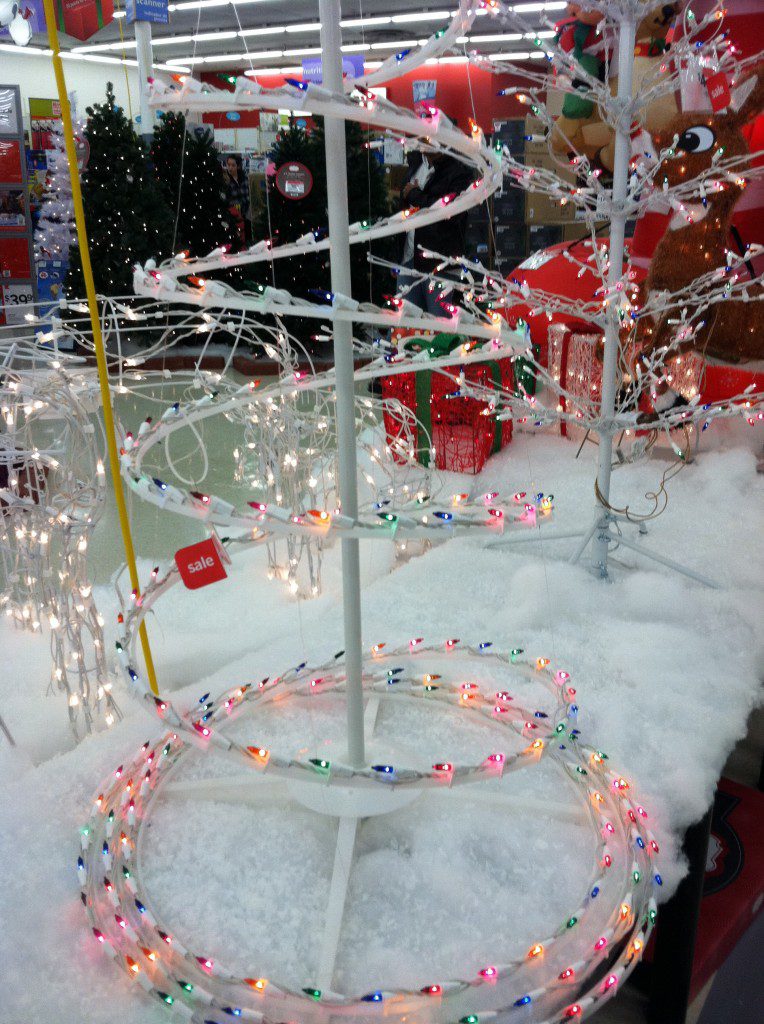 There was also an inflated carousel (NOT happening) and a pink pig, which I loved, but Alan said no way (he actually said it pretty firmly…I'm thinking its a no go—ever).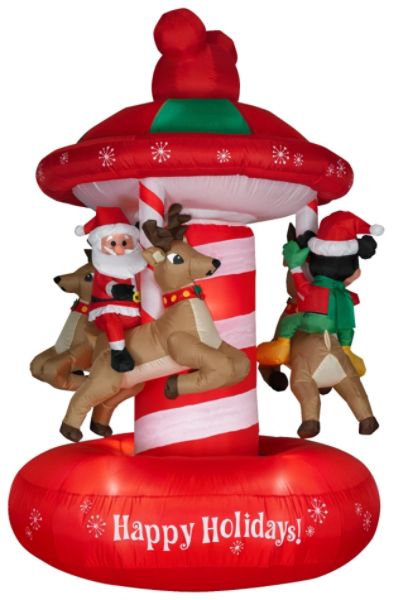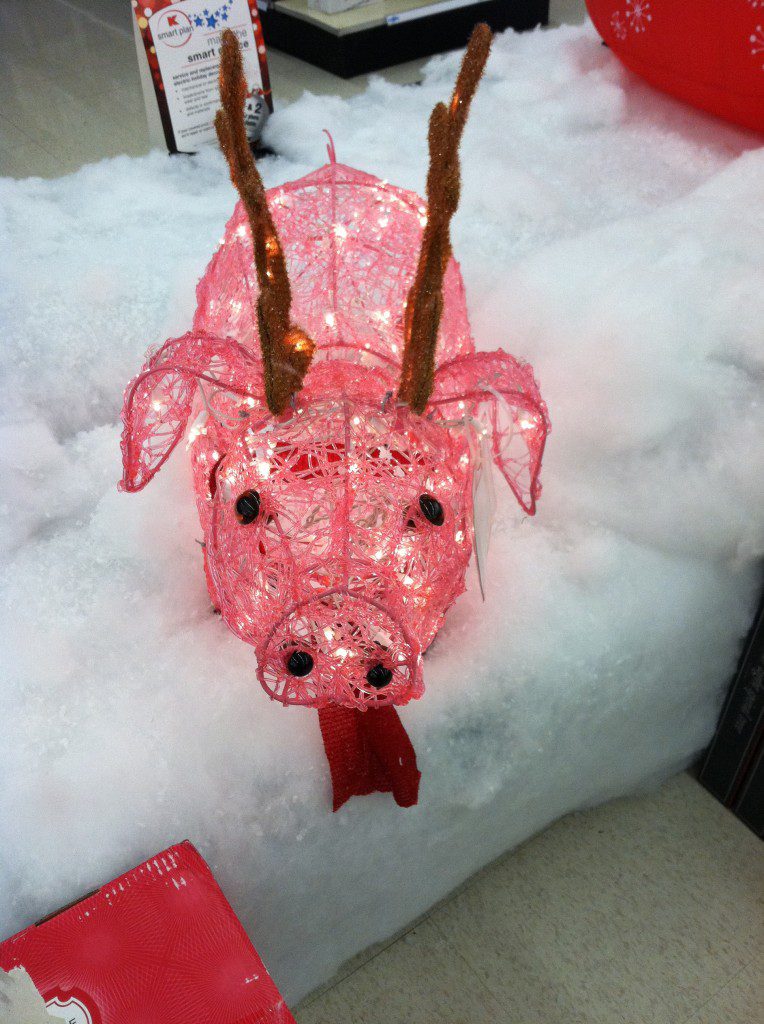 Isn't it adorable?? I think its so cute!! After I seen the pig price I had to say no way as well. Sadly, he was $70 and that would have been a huge chunk of my budget. Even on sale he was still around $50. However, if anyone finds him for around $20 after the holidays let me know right away. Although, if I bring him home it may end up being a moment like The Bloggess had with her chicken <<—btw, one of the funniest stories ever. You can see all my other awesome finds on the pretty slide show that I put together for you. It's like virtual window shopping–awesome! Go on, click the link. It will only take a moment to click through the slides…I'll wait right here for you, mmmk?
Back already? What do you think? Lots of fun holiday decorations at Kmart this year, right? Prices are pretty darn reasonable as well.  It seems like the items are always on sale so you never have to pay full price–love that!
Here's what I ended up buying: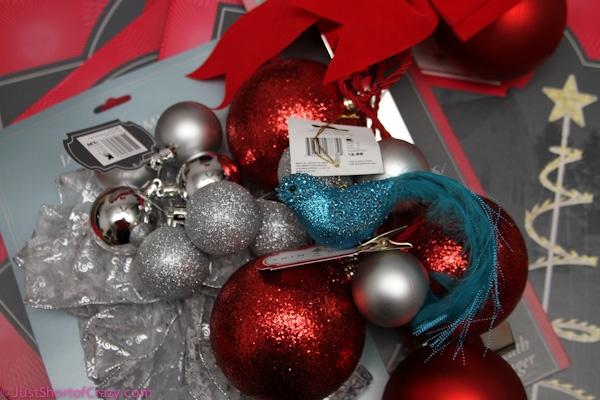 How much do you LOVE the bird?? I'm using the bird and bulbs to make a decoration for the entry door. My wonderful friend Sue is making a wreath for my front door.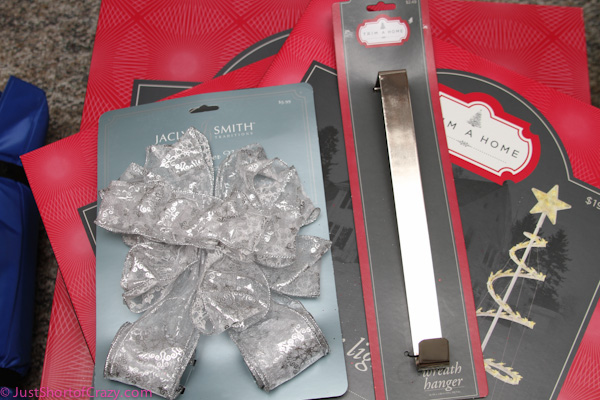 A door hanger and bow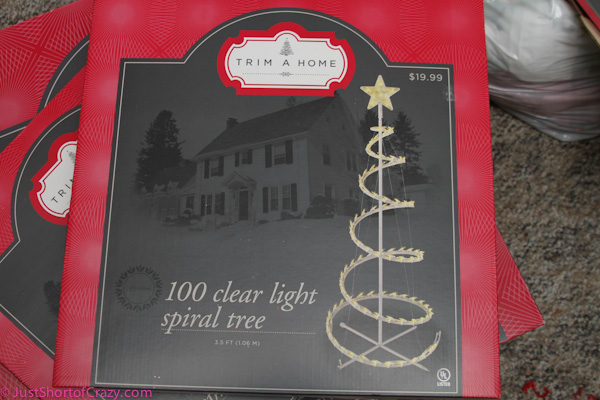 Two small lighted spiral trees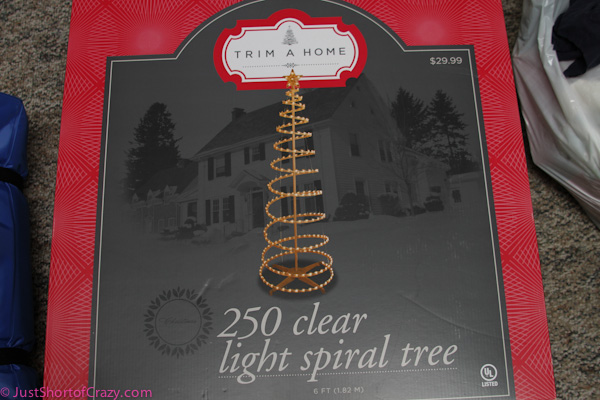 and one tall lighted spiral tree.
Want to guess what my grand total was?? Go ahead, give it your best guess.
Drum roll please………
I spent a total of $84.14. Woo Hoo…I have extra money to go back and buy something else (shhh…I'm calling that my pig money. Don't tell Alan)
Be sure to visit often. I'll be posting a tutorial for my front door decoration and also give you a follow up post of how the outside of my house looks with the new decorations….stay tuned.
Do you decorate for the holidays?
disclosure: this shop has been compensated as part of a social shopper insights study for Collective Bias. As always, all thoughts & opinions are my own.