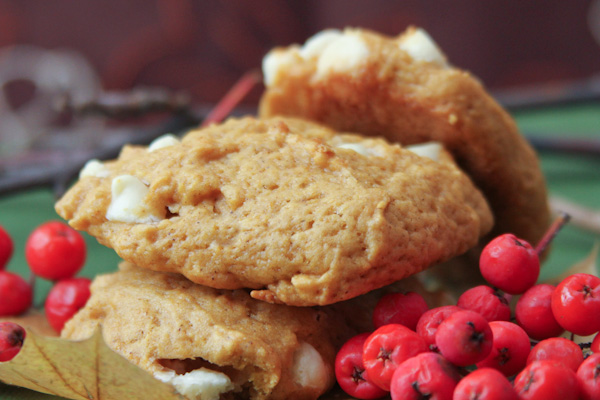 I was digging through my recipe box the other day and came across this recipe from my Mom dated 1978. Since its fall and the time for all things pumpkin I decided to give them a try. They are a delicious soft & chewy cookie.
An alternative could be to eliminate the white chocolate chips from the cookie dough and melt the chips and drizzle the melted chocolate over the baked cookie.
Prep time:
Cook time:
Total time:
Soft, chewy pumpkin cookies with white chocolate chips
Ingredients
4 cups flour
2 teaspoons baking soda
4 teaspoons baking powder
1 teaspoon salt
2 teaspoon cinnamon
2 cups sugar
2 eggs
2 tablespoons milk
1 cup oil
2 teaspoons vanilla
1- 16 oz can of pumpkin
1 package of white chocolate chips
Instructions
Preheat oven to 375 degrees.
Combine flour, baking soda, baking powder, salt and cinnamon in a bowl.
In a separate bowl, mix sugar, eggs, milk, oil, and vanilla.
Add dry ingredients, in small amounts, to your wet ingredients, mix well. Continue until all your dry ingredients are blended into the wet ingredients.
Add white chocolate chips, mix well.
Line a cookie sheet with parchment paper.
Drop dough by spoonful onto cookie sheet.
Bake for 14 minutes. Remove from oven, cool on baking sheet for a few minutes and then transfer to cooling rack to cool completely.
Enjoy.
Thank you Heather for assisting with the food styling!