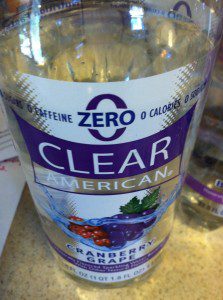 The challenge: Make an drink or treat using Clear American Water. Well, I took the challenge a bit further than that and decided to create an entire meal using Clear American. This is the first post of four which includes: starter, main course, dessert, beverages.
No dinner would be complete without a cocktail (or two or three). One of my all time favorite cocktails is cranberry grape juice mixed with raspberry vodka. Its fruity and tasty and goes down smooth. Sadly, the juice can be chuck full of calories which is not good news for me. So, when I was given the Clear American challenge I thought this would be a perfect opportunity to reduce some calories in the cocktail department.
Start with a glass of ice: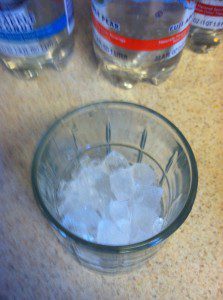 Add Vodka (1 or 2 shots is usually enough)
Fill glass with Clear American Cranberry Grape Water: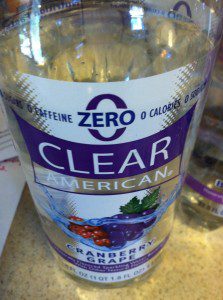 Remember to take photo of cocktail before consuming. Sadly, I forgot all about taking the completed cocktail photo. How could I forget, you ask? I seriously have no idea. I went about my business of finishing up dinner then when I downloaded all my images I realized I had no cocktail images. Now, I could have faked it and just taken a photo of a glass of water (because I finished up the vodka on the cocktail), but that's not how I roll. If I screw up I'll own up to it

You'll have to trust me that the cocktail was very tasty and I didn't miss the high caloric juice at all.
Idea: A perfect celebration drink for the children would be a alcohol free mimosa. Just replace the champagne with some Clear American sparkling water.

Stay up to date with Clear American on Facebook and Twitter
Disclosure: This shop has been compensated as part of a social shopper insights study forCollective Bias, which is a vendor for Cott Beverages Inc., the manufacturer of Clear American® brand beverages. As always, all thought and opinions are my own. #cbias