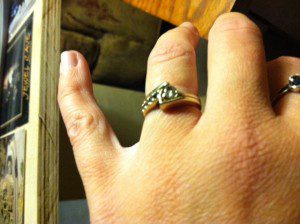 My engagement/wedding bands.Yes, I know, serious moisturizer is needed.
My engagement ring and wedding band are pretty small, which is fine, most of the time. I have to remember that having a large diamond would mean not being able to travel. It's all about choices and I choose travel, but sometimes, just sometimes, I look at diamond engagement rings and have a brief twinge of jealousy. I was at bloggy boot camp this past weekend and I seen some huge rocks sitting on fingers…wow. My mantra became "it's all about choices" and it kind of helped.
If I redone my ring I would definitely choose a white gold or silver. The only gold jewelry I own is my wedding band all my other jewelry is silver, which is my preference.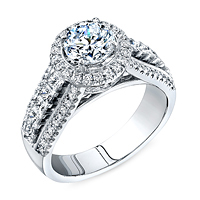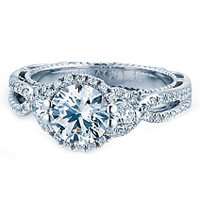 I know these are big and a bit obnoxious, but really, when it comes to bling I sometimes think go big or go home.
I think designer engagement rings might be the way I would go if I ever redone my ring.  I played around with designer software to see what I would end up with. I started with a princess cut diamond and then added a setting and it looks like this: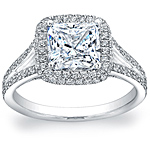 It came in right around $6800 (OUCH!) Well, it's nice to dream. Certainly not something in my future, but it sure is pretty.
Do you like your engagement/wedding bands??  What, if anything, would you change about them?
Cheers,